Archived News Item
HUMAN TRAFFICKING – HEAR THE STORIES
June 27, 2016
Over 500,000 Filipino women and children are trafficked for sexual exploitation every year. The lives of these survivors are forever impacted, and now we invite you to hear their stories.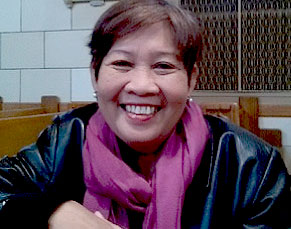 Marietta (Mayet) Latonio, Filipino social worker, women's advocate, researcher and Professor at the University of Southern Philippines Foundation, is visiting Melbourne on June 30 2016 to tell the stories of those who have been trafficked for sexual exploitation – and survived. Mayet is no stranger to Australia and has developed very strong links with the Sisters of Mercy and the Good Shepherd community.
Mayet and Melbourne Sister of Mercy, Dr Angela Reed, last year published their ground-breaking book, I Have A Voice, Trafficked Women -in their own words. Along with Sr Angela, Mayet helped conduct research in the Philippines with female victims and survivors of human trafficking. The book focusses on the lives of 40 trafficked women in the Philippines and the sinister and structural oppression of young women on which the sex trade thrives. This book and Mayet's public talk in Melbourne on June 30 offer unique insights into the women's lives and the significance of having been trafficked.
Apart from telling the stories of the women, Mayet knows only too well the relevance of sex trafficking in the Philippines to Australians and this brings the global impact of human trafficking into sharp focus. The sex tourist trade which sees men from around the world, including Australian men, travel to the Philippines for sex with women and young girls, many of whom have been trafficked. Also, the production of pornography and the use of trafficked Filipino women and girls for this industry which are fed by demand from users globally, including Australians.
Mayet's visit to Melbourne, supported by ACRATH (Australian Catholic Religious Against Trafficking in Humans), is also a fundraising event and 100% of the funds raised will be given to the Cebu Good Shepherd Welcome House, which serves women and children who are survivors of sex trafficking and prostitution in Cebu City, Philippines. Please come along to this important free public event and you are invited to consider making a donation on the night or in the future.
Event Details
Date: Thursday, 30 June 2016.
Time: 6:00 PM to 7:30 PM.
Where: Deakin University, 3rd Floor, Deloitte Building, 550 Bourke St Melbourne, VIC 3000.
To register your attendance: please call Tori Anderson on 0448 115 133
Messages to: Rosie Hoban