Archived News Item
Human rights are being violated: do you care?
October 31, 2010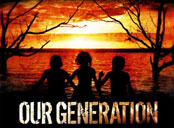 International human rights are being violated in one of the most developed countries in the world. Are you concerned? Hidden from the eyes of the world the oldest culture on earth is fighting for survival. How can this be happening in our 'lucky country'?
"..this is what they call the lucky country, but not so lucky up here… we live in poverty… we were rich when we were living alone in the country…"
Despite the National Apology, Australia's Indigenous peoples continue to face cultural genocide. Can Australia deliver justice for its First Peoples?
The film Our Generation opens the way for dialogue on how Australia can move forward with genuine respect and partnership with its First Peoples.
Jeff McMullen, former ABC foreign correspondent, says: "The truth in this film is like a red hot poker driven into the conscience of a nation. This film is a plea for reason. Are we listening? Will we act?"
John Butler, of the John Butler Trio, says: "This is a very important film that everyone needs to see… It will change your life."
Quote from the film: "Solidarity is not enough, I want you to take action."
From: Institute Specific Issues Committee, Indigenous Concerns (Sisters Dolores Coffey, Rose Glennen, Anne McGuire, Daphne McKeough and Moira Truelson).
The Committee warmly invites your response to the article or the issue.
Email: indigenous.concerns@mercy.org.au
Contact: Carmel Heagerty RSM, Institute Justice Co-ordinator
Email: Institute.Justice@mercy.org.au