Archived News Item
How healthy are our oceans?
June 26, 2008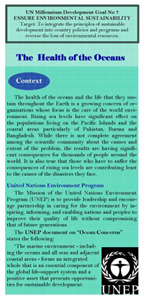 The Institute's Specific Issues Committee, Eco-Justice has prepared a backgrounder which highlights the health of our oceans and the impact of rising sea levels on our world.
The health of the oceans and the life that they sustain throughout the Earth is a growing concern of organisations whose focus is the care of the world environment.
Rising sea levels have significant effect on the populations living on the Pacific Islands and the coastal areas particularly of Pakistan, Burma and Bangladesh.
While there is not complete agreement among the scientific community about the causes and extent of the problem, the results are having significant consequences for thousands of people around the world.
It is also true that those who have to suffer the consequences of rising sea levels are contributing least to the causes of the disasters they face.