Archived News Item
Hospital marks 75 years
July 28, 2006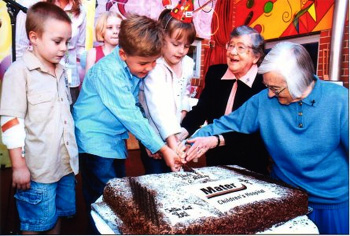 Party time: Young patients (from left) Marcus Flook and Zhanae Allez with Mercy Sisters Marie Fitzgerald and Collette Anderson at the Mater Children's Hospital's 75th birthday celebrations.
The Mater Children's Hospital at South Brisbane celebrated its 75th birthday on July 6 and the Sisters of Mercy, Mater staff, patients and their families and supporters were all invited.
The birthday celebrations included past and present patients sharing their Mater stories including Margaret Newson, who was hit by a bus at the age of 13 in 1956, and was brought to the Mater for treatment after sustaining serious injuries to her legs, arms and pelvis. Current patients were treated to a special birthday visit by the characters from Movie World.
"The Mater Children's Hospital is still the only paediatric institution on Brisbane's southside and has become a Queensland icon, touching the lives of many families from across the state and northern NSW," Mater Hospitals executive director Dr Mark Waters said.
"During the last 75 years the Mater Children's Hospital has become a leader in paediatric medicine and research, achieving many outstanding triumphs. We are very proud of what we have accomplished and look forward to providing innovative health care services to children and their families in the future."
The celebrations marked an important day in the Mater's History, when the Sisters of Mercy opened the first children's public hospital south of the Brisbane River to provide specialist paediatric health care services for children and their families.
It was a long held dream of Mother Patrick Potter, the founder of the Mater Hospital in Brisbane, to build a modern public hospital for children to meet the increasing need for paediatric health care services in Brisbane.
When the Mater Children's Hospital officially opened in July 1931, its 80 beds were occupied immediately and in its first year of operation, the hospital admitted 1266 patients and saw more than 7000 outpatients. Since then, the hospital has continued to grow and in 2001 a new purpose-built Mater Children's Hospital was opened. Today, the hospital cares for more than 130,000 children and their families each year.
Messages to: Elizabeth O'Keefe RSM, (Congregation Secretary)
Source: The Catholic Leader July 23, 2006