Archived News Item
HONOURING THE MERCY STORY
November 7, 2016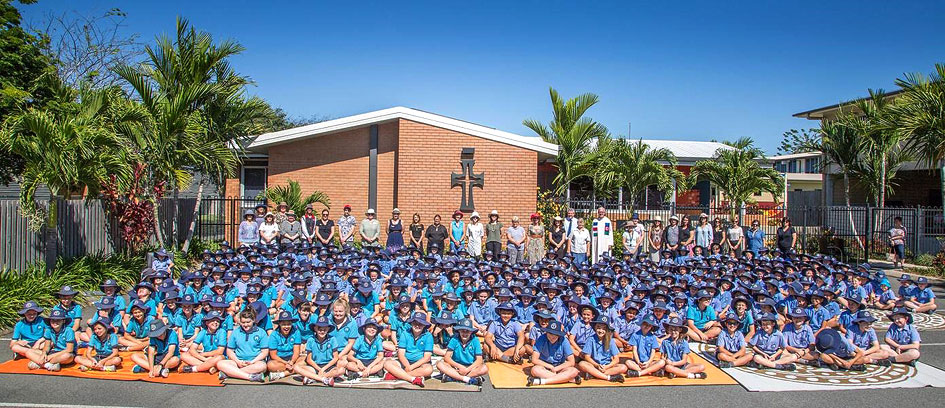 7 November 2016
Recently in Mackay, two parish primary schools, founded by the Sisters of Mercy, held rituals in which the school community honoured the Sisters. On Friday 21 October, Margaret Graves rsm and Denise Hinton rsm attended the blessing of an outdoor class-room area, appropriately named 'Mercy Place' at St Francis Xavier School, West Mackay.
The ritual included a short history of the presence of the Sisters of Mercy in both the school and the parish. Current Principal, Olivia Rostirolla, paid tribute and expressed gratitude to the Sisters who established the school in 1935 and to those who have taught at the school, nurturing the small mustard seed planted more than eighty years ago. At the end of the ceremony at which Fr John FitzHerbert presided, Margaret and Denise (a past-pupil of the school) were presented with a small wooden cross crafted out of the timber from the middle stairs of Our Lady of Fatima Convent which has been demolished, making way for new development at the school.
On Monday 24 October, Denise Hinton rsm attended the blessing of a Mercy Cross which enhances  the external wall of the Administration Block of St Mary's School, South Mackay. The placing of this cross acknowledges the Sisters of Mercy who founded the school in 1924 and who staffed the school for so many years.  Again, Fr John FitzHerbert presided at the blessing and Denise shared with the school community a brief history about the school and the symbolism of the Mercy Cross. This cross is made of stainless steel and was crafted by a parent who works at a local  firm.  There is a light mounted above the cross and at night the Mercy Cross  is very prominent as one drives along Juliet Street. Michael Stewart, the Principal, paid tribute to the Sisters of Mercy laying the foundations for the great education hub St Mary's has become.
Messages to: Joanne Molloy rsm