Archived News Item
Honouring Sisters' Past – Prayer Service at the Lilydale Cemetery
October 31, 2017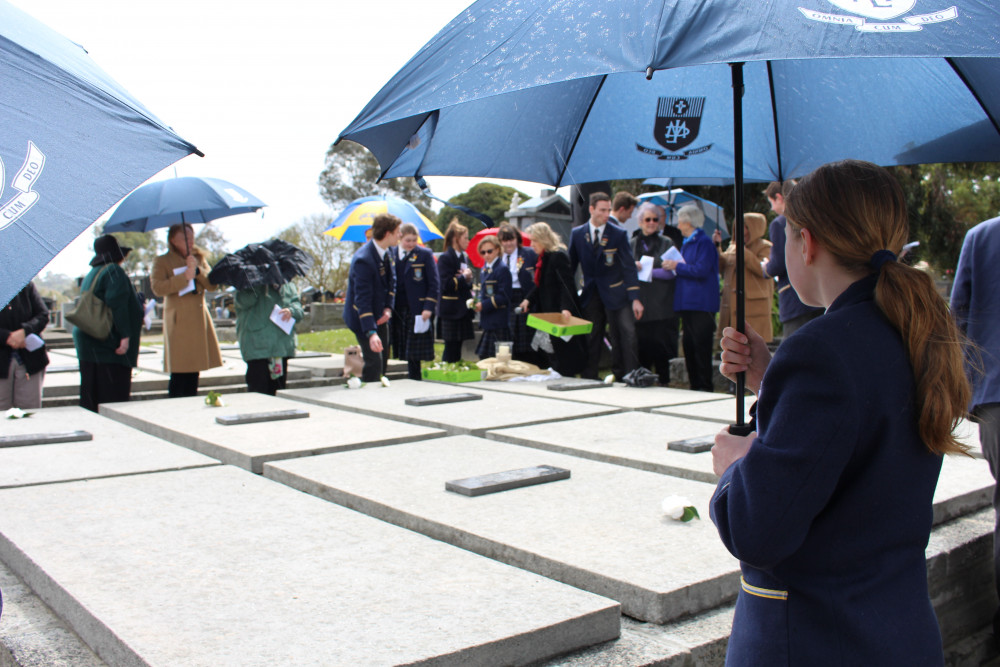 Remembering Mercy women who have been part of the Mercy journey over the past 160 years, 1857 – 2017.
"How quickly the great God does all his mighty works! Darkness is spread over us, and the light breaks in again, and there is no noise of drawing curtains or closing shutters."
– Catherine McAuley
On Wednesday, 13 September, 2017 a group of Mercy Sisters, the Principal, Philip Morison, some staff and senior students and friends of Mt Lilydale Mercy College gathered at the Lilydale Cemetery to pray for the thirty two Sisters buried in the Mercy plot there.
The foundresses were acknowledged and a brief summary read about their contributions as we prayed for each and every Sister who had been part of this Community. Mother M Agnes Ryan, one of the foundresses who came on from Mansfield, is not buried there as she went on to found and establish Seymour. Mother M Patrick Maguire came from Mansfield as the first Superior at Lilydale. She and Sister Agnes Ryan were responsible for the establishment of Mt Lilydale College.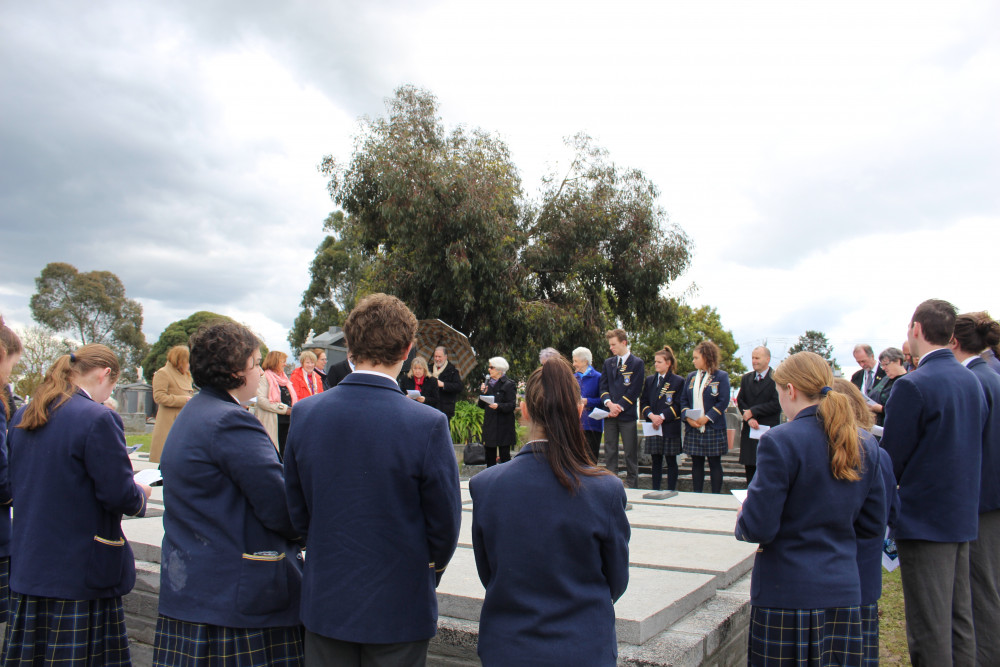 Mother M Brigid Bradshaw came from Carrick-on-Suir, Co Tipperary, to Mansfield and was a founding member of the Lilydale Community. Her compassion and love of Ireland remained in the memories of those who knew her.
Mother M Magdalen Donnellan was employed in the household of the Duke of Norfolk. Her grandmother had been a stewardess in Buckingham Palace. She entered the Convent in Mansfield and also came on to the Lilydale foundation from Mansfield.
It was a very moving ceremony, in spite of a heavy shower, and the students, together with those present, placed a gardenia on each Sister's grave as a prayer was read out. The graves had recently been cleaned and were shining! The Music Director, Dr Paul Curtis, provided musical accompaniment as we all joined in singing the 'Suscipe', 'Salve Regina' and 'Called to be Mercy' at the conclusion.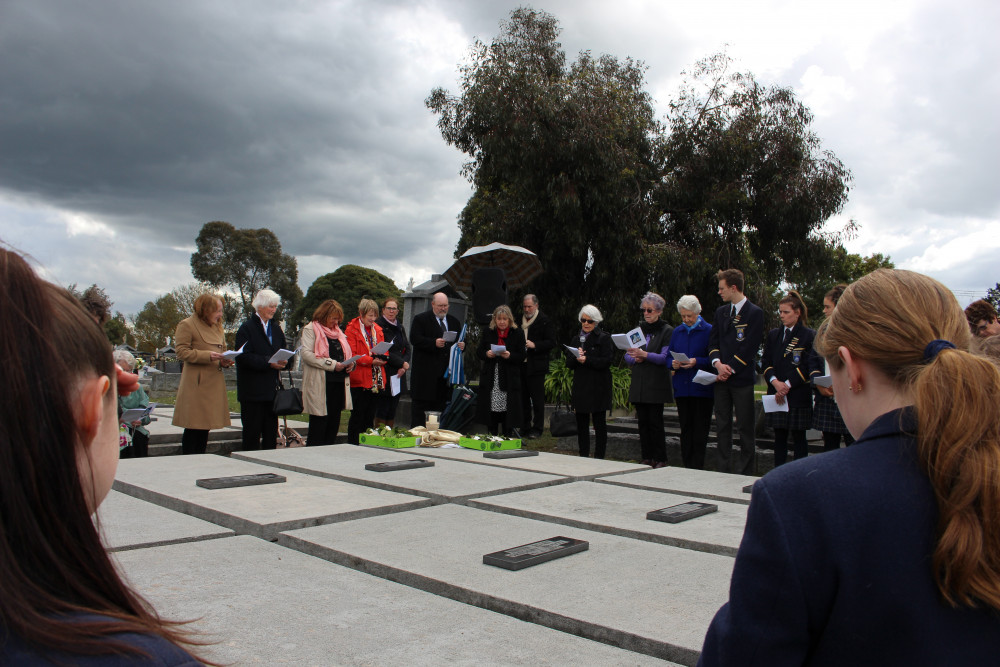 Each year, in September, prior to the Staff and students celebrating Mercy Day, there is a Cemetery Ritual held by the College. Dr Elizabeth Keogh, Director of Mission, told me that it is part of their tradition to always sing the 'Salve Regina' and Catherine's 'Suscipe'.
The spirit of Mercy is very evident at Mt Lilydale Mercy College. Prior to the gathering at the Cemetery, lunch was hosted in the Archives area of the St Joseph's building. There was much lively chatter and reconnecting with former staff and friends of the College. It was lovely that some Sisters were present who had been on staff there, Beth Calthorpe rsm, Madeleine Fox rsm, Eileen Dowling rsm, Margaret Sheehan rsm and Kathleen Slattery rsm.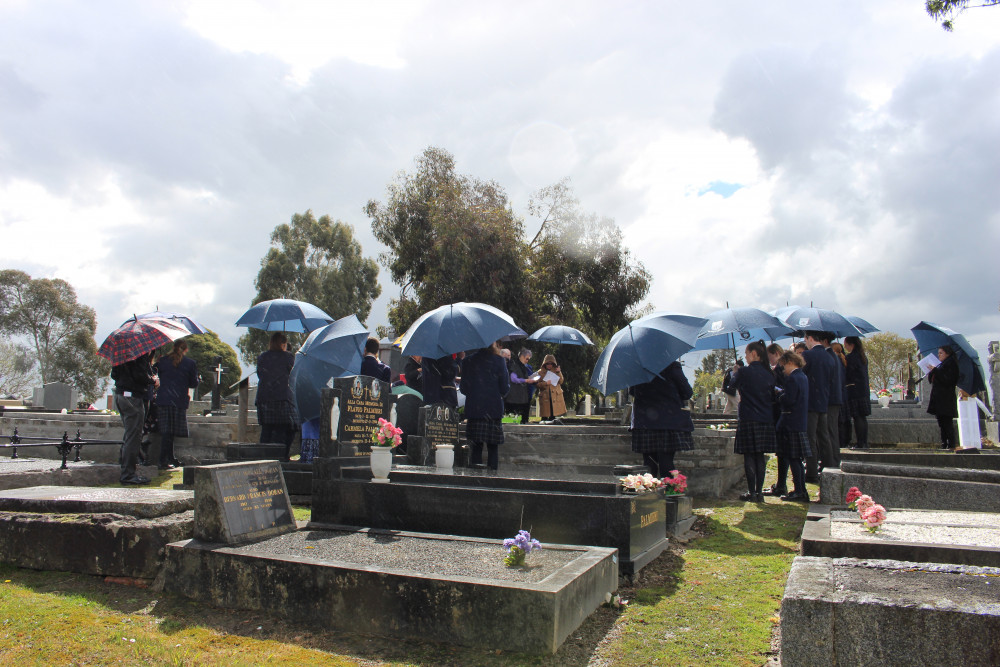 "From a humble start in Dublin to many foreign shores. The spirit of God's Mercy lives in service of the poor. Catherine's dream inspires us to reach out in his name; to live with deep compassion as his mercy we proclaim." (Called to be Mercy)
Article by Nancy Freddi rsm
Messages to: Nancy Freddi rsm
*Photos courtesy of Mt. Lilydale Mercy College