Archived News Item
Honouring Remarkable Women At Mercy Place, Rice Village
March 29, 2017
International Women's Day (March 8, 2017) was a particular day of celebration at Mercy Place Rice Village, Geelong, Victoria with the recognition of the contributions of some remarkable women.
More than 130 years ago, the Rice Sisters (pictured above and after whom Rice Village is named) ran a successful hotel on the site, called the Racecourse Hotel,  in what was a very male dominated era. Paying homage to this history, a ceremony was held on International Women's Day to officially bless and open the Racecourse Inn, a place for residents, families and staff to socialise, with its in-house bar, beer garden, pool table and darts board.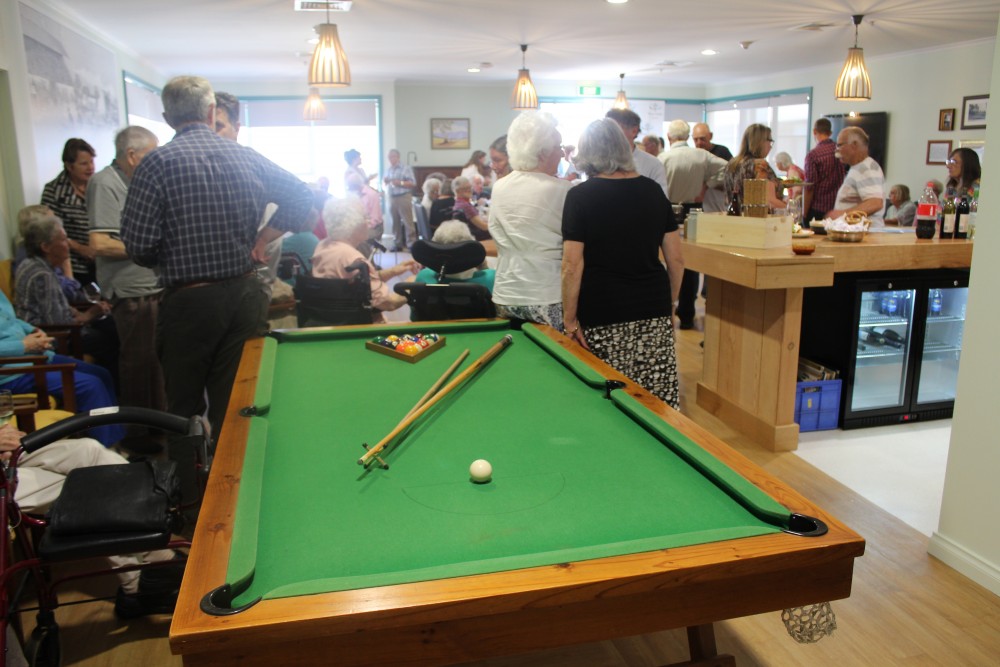 The original Racecourse Hotel was owned by the Rice Family and was left to the daughters Hannah and Margaret Rice who in their time were very strong and inspiring women.
With their passing in 1970, the Rice sisters donated all of their money, and the 10 acres of land on which the Hotel stood, to the Church, with the request that it be used to establish a rest home for women in need.
The catalyst for the new Racecourse Inn came from the initiative of Bernadette Bartok (Service Manager), staff member Julie Baker and resident committee members Pattie McKinnon rsm and Fay Rizzo, who successfully applied for a $30,000 grant from the Mercy Health Foundation.
"We had this much under-utilised space that was lacking in warmth and that we could see held tremendous potential," says Bernadette. "We love the history of the Rice sisters and wanted to honour these strong women by replicating the Racecourse Hotel, which we now have with our version – The Racecourse Inn!"
Honouring Sister Joan Campbell
The International Women's Day Celebrations at Rice Village, also included the honouring of Joan Campbell rsm, a resident and a member of the Institute's South B Community.
Sisters Joan was awarded with a Mercy Health International Women's Day Award acknowledging her ministry in Pulau Bidong, Malaysia.
In 1984 Joan volunteered her service in Pulau Bidong. What was meant to be a 6-month assignment turned, into a 10 and a half-year mission that saw Joan working at an under resourced school for Vietnamese refugees. She went without any preparation or knowledge of local language; she simply took her faith and an open heart to the Vietnamese refugees.
As part of International Women's Day, the theme of which was 'Be Bold for Change', people at Rice Village were asked to nominate others for awards. Having seen many Vietnamese people visit Joan and their obvious gratitude to her, one volunteer was moved to nominate her in recognition of the 'boldness' she practised on that island and the 'change' she brought about.
As part of the nomination, the volunteer said, "I am sure there are many more apart from those who visit her (Sr Joan) who have benefited from her selfless work … her attitude and life are a living reflection of our Mercy values … In that alone she is a winner".
Community Leader, Berenice Kerr rsm, who was present at the ceremony said, 'How proud we are of this mercy woman in her 'autumn' years, being applauded for being the vehicle of God's love to so many desperate people".
Congratulations, Sr Joan!
Messages to: Bernadette Bartok
29 March 2017