Archived News Item
Historic day for Mercy ministries in Queensland
April 22, 2010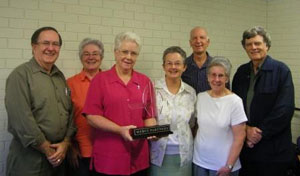 About 100 people from various parts of Queensland gathered on Thursday March 25 in Sacred Heart Cathedral, Townsville, to celebrate the dawn of a new era for ministries operated by the four Sisters of Mercy Congregations in Queensland. Nerida Tinkler RSM, President of the Institute of Sisters of Mercy Australia, travelled from Sydney to be present.
On that day the leaders of the Mercy Congregations in Brisbane (Sandra Lupi RSM), Rockhampton (Berneice Loch RSM), Townsville (Marie Melville RSM) and Cairns (Faye Kelly RSM) joined together to formally launch a new canonical and civil entity known as Mercy Partners.
Over time it is expected that Mercy Partners will assume the responsibilities currently held by these four Mercy congregations for their health, aged care, education, religious, charitable and community service ministries.
An important part of the Mercy Partners launch was the commissioning of seven people to serve as the founding Mercy Partners Council. The Council members were appointed by the four Congregation Leaders in their capacity as the founding Stewards of Mercy Partners.
The Mercy Partners Council comprises: Anne Hetherington RSM (Chairperson) and members Ray Campbell, Garry Everett (Deputy Chairperson), Berneice Loch RSM, Marie Melville RSM, Emeritus Professor Peter Sheehan AO, and Moira Truelson RSM.
The gathering assembled for the Mercy Partners launch included Bishop Michael Putney (Townsville Diocese), Bishop Brian Heenan (Rockhampton Diocese), clergy from the Townville Diocese, civic leaders or their representatives, and Sisters of Mercy accompanied by many of the lay women and men who partner with them in Mercy ministries throughout the State.
Following the official Mercy Partners launch, Mass was concelebrated in the Sacred Heart Cathedral by Bishops Michael and Brian and several clergy from the Townsville Diocese.
As spokesperson for the Mercy Partners Council, Marie Melville RSM said the launch was very successful and the sisters were very grateful to the many people who, in some instances had travelled long distances, to be part of what was truly an historic day for Mercy ministries in Queensland.
"The mission of Mercy Partners is to contribute to the emergence of a world where the healing, liberating and life-giving Mercy of God is experienced, and if the enthusiasm, excitement and commitment to this mission, demonstrated by those present at the launch is anything to go by, then the future success of Mercy Partners is assured", Marie said.
Mercy Partners has set up offices in the McAuley Building on the Mercy site at Nudgee in Brisbane.