Archived News Item
HIGH TEA WITH A PURPOSE!
July 3, 2015
On Thursday 28 May, the Mercy Centre in Tighes Hill NSW hosted a High Tea in support of women and their children fleeing family violence. McAuley Community Services for Women launched a High Tea Appeal in May because this is when we celebrate Mother's Day and staff, sisters and friends at Tighes Hill decided to assist. Tragically, this year 81 women did not get to celebrate this day with their children, or their own mothers, because they have died as a result of family violence.
McAuley Community Services for Women wants to break this cycle and ensure that women, who are unsafe in their homes, have a safe and welcoming place to go with their children. And this is being done. In fact, McAuley Care is the only safe house in Victoria open 24 hours a day, seven days a week, providing crisis accommodation to women and their children who are escaping family violence. It has accommodated more than 10,000 women and children since it was started more than 20 years ago.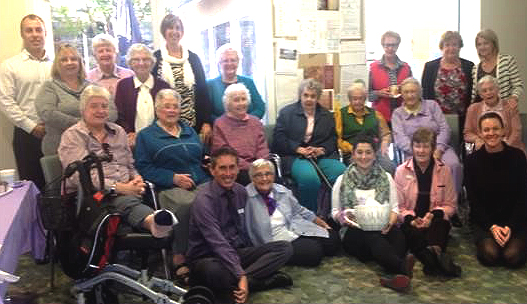 This year we at Mercy Centre – Tighes Hill rallied behind this event, with the generosity of our sisters and staff in the community raising a total of $1000! This was an amazing effort and greatly appreciated by McAuley Community Services for Women.
Messages to: Petra Hennessy
Photo:
Front L-R: David Payne, Pauline Murray, Emma Veronesi, Fran Stace & Natalie Anderson.
Middle L-R: Pat Healion, Frances Gannon, Paula Redgove, Julie Rees, Luke Crich, Pat Adams & Moya Lantry.
Back L-R: Peter Byrne, Michelle Thompson, Margaret Sinclair, Eileen Tobin, Margaret Metcalf, Liz Callen , Helen Law, Helen Owens & Louise Willis.
Photo taken by Petra Hennessey