Archived News Item
Hesed community celebrating 25 years
September 16, 2008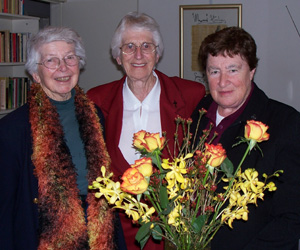 Twenty-five years ago on Mercy Day, a small group headed by Sisters Pat Kenny and Rose Casey of Adelaide formally committed themselves for a six-month trial period to test their vision of a healing community. Rose was 80 years old; Pat, 57. They chose the name Hesed, a Hebrew word with a cluster of meanings closely linked to the compassion, mercy and fidelity of God.
Twenty-five years later, Hesed Christian Community is still thriving, and Sister Pat Kenny, now aged 81, is still the Co-ordinator. Rose passed away in 1987, cared for at home by the community.
Commenting on the reality of the results of addictive behaviours and the marginalisation of the mentally ill, Pat Kenny explains: "Hesed began in response to a need, which sadly is still prevalent in today's society. We are daily reminded of the increasing issue of homelessness in relation to the mentally ill. We do what we can."
Over the years Hesed has relied on the commitment and involvement of dedicated volunteers and helpers, and lived frugally on Disability Allowances and the like, without a lot of other financial assistance. Hesed Christian Community describes itself in these words:
Hesed is a group of people, religious and lay, who have heard a call to follow Jesus closely, to live a radical Gospel life, to grow together towards their own wholeness (holiness), to build together a healing community – a haven for the lost – to give new life and hope to those in need – whether because of family breakdown, addictions, mental illness or other reasons – by healing prayer, loving counsel, and practical support and care; to become the "hesed" of God, as Jesus did, believing in his promise – "you shall be My people and I shall be your God".
Hundreds of people have passed through Hesed, with a small group forming a permanent residential nucleus. Families, children and the aged are all part of the Hesed family.
Situated in the Adelaide suburb of Magill, the community resides in a number of rented State Trust housing units centred round a large old house that holds the gathering space, chapel and dining area.
Inspiration for Hesed was drawn partly from the vision of Jean Vanier's L'Arche Communities, where residents share the joys and struggles of life in a simple, prayerful way. It is a challenging, sometimes chaotic, but deeply enriching way of being in community. Shared prayer and reflection on Scripture, as well as shared meals and celebrations are a major part of life at Hesed. Healing, hospitality and honesty are the pillars of the community.
"People stay for as long as they need," says Pat Kenny. "Some move on after dealing with their addiction in a safe and highly structured environment; some will stay for life."
The community offers a structured programme of teaching and group support devised by Sister Pat, called "Growth to Wholeness", based on the Twelve Steps of AA. The wisdom of reputable experts on addiction such as John Bradshaw and Ernie Larson is also drawn on. In addition, residents are encouraged to attend appropriate outside programmes.
The community has strong links with mental health and rehabilitation agencies in South Australia, and its residents have come from many parts of Australia.
The present Hesed community is an eclectic mix of three Sisters of Mercy, one priest, a religious brother, and lay people of a variety of ages and backgrounds. As Hesed approaches its twenty-fifth anniversary celebration, Sister Pat Kenny reflects: "We are hoping that the work of the community will continue, but this can only happen if others who feel called see it as a worthwhile venture with a vision for today. We are hoping to attract a new generation of helpers and volunteers with the energy and commitment to carry Hesed into the future".
If you are interested in joining the Hesed community or making a donation to its ministry, please contact Sister Pat Kenny:
Email: patmk@adam.com.au
Postal address: PO Box 17 Magill, South Australia, 5072
From: Sister Mary Wickham RSM (Congregation Councillor, Melbourne)