Archived News Item
Heroes Behind The Masks
August 5, 2020
They're the heroes behind the face masks – the medical staff who go to work every day, on the frontline of the fight against the coronavirus.
Star Weekly newspaper spoke to three employees from Mercy Health and Werribee Mercy Hospital, as the state's fight against COVOD-19 ramps up once again.
The Mercy Health Foundation is also running the 'Help Us Fight Appeal', seeking donations from the public to help purchase vital medical equipment and supplies. See https://www.mercyhealthfoundation.org.au/ to make a donation.
Panga Manoharan: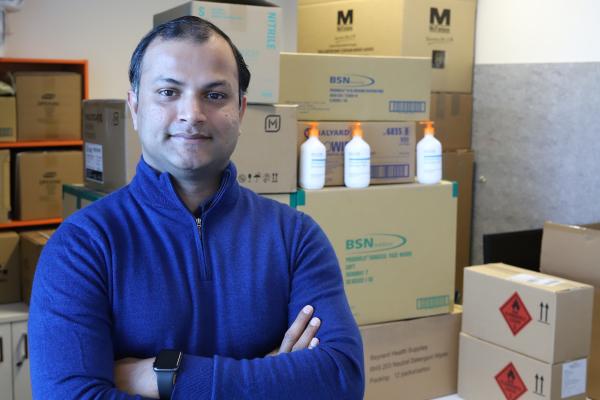 Panga Manoharan says that members of his team at Mercy Health have worked many extra hours since the pandemic hit.
Mr Manoharan is the health organisation's supply chain manager, and works alongside four other colleagues in Procurement and Contracts, plus five purchasing officers.
Mr Manoharan said the team managed contracts and organised most of the purchasing for Mercy Health's hospitals, palliative care services, 35 residential aged care homes and home and community care services.
He said that when the pandemic started, the team had to immediately focus on trying to source appropriate levels of Personal Protective Equipment (PPE) for medical staff, such as face masks.
"In those early few weeks, though, it was really tough and stressful trying to find ways to procure some of the items we needed," he said.
"We relied heavily on our relationships with suppliers, we had to enter into new negotiations and, to be honest, there were definitely some sleepless nights.
"Things have definitely settled down in the last couple of months, and stocks have returned to reasonably normal levels as production of these items around the world ramped up."
Mr Manoharan said everyone on his team had undertaken roles outside their normal duties during the pandemic.
"Every member of our team has been a courier during this period, moving PPE between our hospitals, aged care homes and community settings, and we've all worked many extra hours," he said.
"It's been amazing watching our team work above and beyond their regular duties with no fanfare and little understanding of the huge effort that's been going on behind the scenes to ensure we've met the needs of our organisation and community."
He added: "The real heroes during this pandemic are each and every member of our community who has followed guidelines to play their part in reducing the burden on our health system."
Paula Guerin: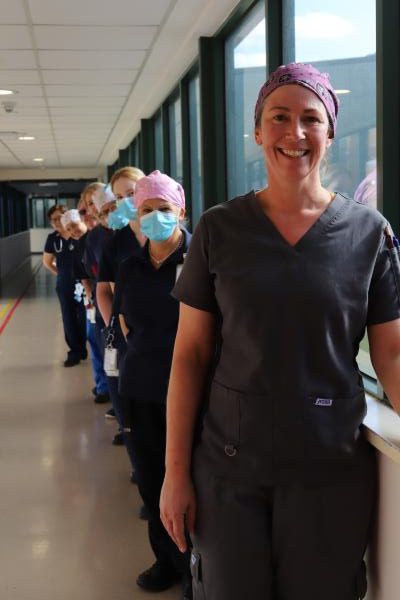 Paula Guerin says she feels "very proud" to work within the Werribee Mercy Hospital's Emergency Department.
Ms Guerin is an Associate Nurse Unit Manager (ANUM) in the department.
She said that when the pandemic began, the department made several changes, including introducing a concierge pre-assessment screening nurse at its entrance.
A separate Fever Respiratory ED (FRED) unit was also created inside the existing Emergency Department, with provisions to extend into unused, older operating theatres if required.
"Our community has been incredible, and for that we thank you," Ms Guerin said.
"We are a 15-bed ED with three resuscitation beds and a limited Short Stay Unit.
"We see up to 150 presentations a day but your response has meant we haven't been overwhelmed.
"But this isn't over yet and there is still a lot to do."
Ms Guerin said that in March, as the coronavirus diagnoses began to increase in Australia and media coverage highlighted what was occurring overseas, Werribee Mercy's ED and ward staff – along with the entire community – entered "a period of unknown, confusion, anxiety and fear."
But she said the way the Emergency Department "has adjusted and come together is a testament to the staff whom we frequently refer to as our 'ED family'".
"Many staff have done extra shifts and hours, with some cancelling annual leave in support of their colleagues and the community," she said.
Ms Guerin said the ED team had "experienced incredible love and support from our community" during the pandemic, with individuals, businesses, hospital staff members and their families donating many items including meals, coffee, scrub caps and safety glasses.
"Our work has at times been overwhelming but we've felt so lifted by the care of everyone in our community," she said.
Dr David Turner: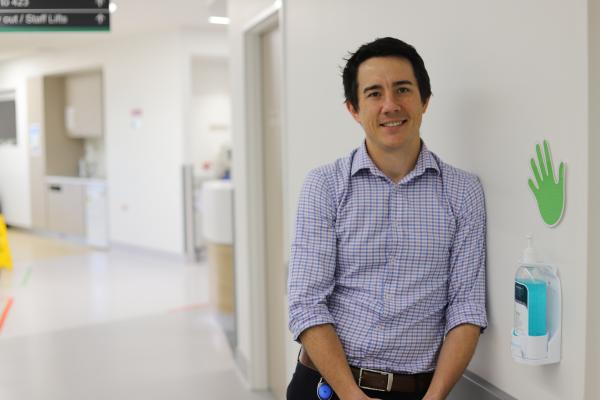 Dr David Turner is an infectious disease physician leading the COVID-19 response at Mercy Health.
Much of his work being is at Werribee Mercy Hospital and the Northern Hospital.
His role includes clinical tasks, such as testing people for COVID-19, assessing people who come into the hospital with respiratory symptoms and helping other physicians.
Dr Turner also sits on number of committees and an Incident Command Team.
He said that before pandemic, he did a lot of bedside work, but has now become involved in several administrative duties, surrounding the policies and protocols in place at Mercy Health.
Dr Turner said that the coronavirus pandemic was not the first time he has faced dangerous illnesses, as he has previously worked in situations involving measles and TB.
He said that part of his role at Mercy Health included reassuring other staff members they were doing their best to stay safe, by following stringent procedures and not putting themselves or others as risk.
"They can go home to their families and hopefully not be anxious," Dr Turner said,
"Although that is easier said than done, I have two little boys myself, and I think, 'I don't want to be away from them for too long or put them at risk'."
Dr Turner said he would also like to thank members of the public who have been obeying the government's pandemic guidelines.
"A huge amount of responsibility and thanks has to go to the community for the sacrifices they have made," he said.
However, Dr Turner said he and his colleagues wanted to encourage people to attend hospital, if they genuinely needed to, during the pandemic.
"A lot of us are concerned that people are thinking they want to do the right thing and saying, 'I'll stay at home, I won't bother the health system'," he said.
"But I want reassure community hospital is safe – we have capacity, we're available to help people."
Article written by Alesha Capone, It originally appeared in the Star Weekly. Reprinted with permission.
https://wyndham.starweekly.com.au/news/heroes-behind-the-masks/?fbclid=IwAR18pO2_mF3dwUlJEdD3isejbjPeSHJzEOpYAgFeEDT2OGDepNBK77GBu1c
Messages to: cbutterfield@mercy.com.au
Click here to return to Just Mercy