Help young Wewak women get an education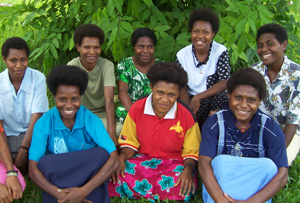 Would you like to help a group of young women from Wewak, Papua New Guinea achieve their goal of completing Year 10 so they can continue on to matriculation and tertiary studies? Sister Kaye Bolwell RSM, Co-ordinator of the Mercy Education Programme in Wewak, outlines an initiative whereby young women are making and selling bilums (hand-woven string bags) to help fund their education.
The Mercy Education Programme is providing young women from the Wewak area who are disadvantaged in some way with opportunities to complete their secondary education.
Now in its third year, "The Bilum Project" is an initiative of students from the Mercy Education Programme. Put simply, the students make bilums to sell (mainly in Australia) so they can help fund their education.
Sister Kaye Bolwell RSM, Co-ordinator of the Mercy Education Programme reports on the project:
"These young women are between the ages of 20 and 30 and are trying to achieve Grade 10 so they can go on to matriculation and tertiary studies.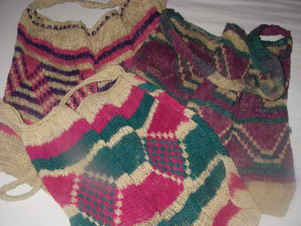 "The money they earn from making bilums is then used to pay for some part of their education costs and to buy the essentials that we all need to keep clean and healthy.
"It also allows them to do their study with some confidence and dignity as they are paying their own way. Ready cash is not much in evidence here, and so paying for education, especially for females, can be a problem. By making bilums and selling them they can earn money to support their dreams.
"Last year they were just beginning to make bilums in a natural fibre. These are very strong and are generally worked in various earthy colours with blue pink and green added as you may wish.
"The woollen ones continue to be as bright or as neutral as possible but none could be said to be dull. However, as we live in the East Sepik Province, most of the bilums will be in the traditional Sepik pattern which in some way seems to incorporate diamonds.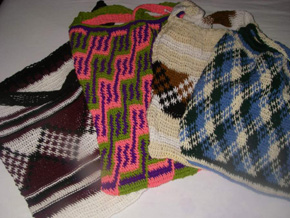 "I would especially like to thank all those who supported us last year, especially the Mercy Colleges in Townsville and Mackay. I do hope that both staff and students are enjoying their particular bilum."
If you would like to support these young women raise their level of education DOWNLOAD AN ORDER FORM HERE.
From: Sister Kaye Bolwell RSM (Co-ordinator, Mercy Education Programme, Wewak, PNG)
Editor's note: In PNG, bilums or hand-woven string bags, have been crafted and used by people for hundreds of years to carry a range of items, including food and babies.