Archived News Item
Help rebuild Pakistan: invest in education
October 30, 2010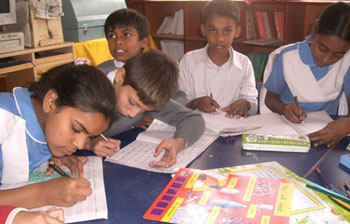 This year the people of Pakistan experienced the worst floods the country has seen in decades. The raging flood waters began in late July following heavy monsoonal rains, and continued into September, killing more than 1,600 people and affecting up to 20 million.
Public infrastructure and homes were destroyed; livelihoods, livestock and crops were wiped out. Pakistan was already a struggling nation but now too many people are faced with the overwhelming task of rebuilding from scratch.
While the flood waters did not directly impact on the education projects supported by Mercy Works Inc. in Karachi and Rawalpindi, members of those communities and their families have been indirectly affected.
Margaret Madden RSM, Director of Notre Dame Institute of Education (NDIE), a teacher training facility in Karachi, is concerned for the welfare of her students and staff who come from various parts of the country.
"We've got students here at NDIE from the north who have lost everything; their houses have gone, their little bits of land are gone. If the family was trying to support the students in their study, now the family has got nothing, so these students can't pay their fees or their hostel accommodation. Without support, our students can't survive," she says.
For Patrick Mumtaz, Principal of St Joseph's School Mughalabad near Rawalpindi, higher living costs due to the floods have made life so much harder for an already poverty-stricken community.
"The crops, fruits and vegetables do not meet the demand of the people therefore prices have gone very high. To help the people in the flood-affected areas, the government has increased the rates of the electricity, gas and other utility bills," he explains.
As a result of these extra pressures, Patrick says families in Mughalabad have been unable to pay their school fees.
In both Karachi and Rawalpindi, large numbers of displaced people have been living in camps or staying with extended family. Karachi, the country's biggest city with a population of 21 million, received over three million displaced people.
While local people are assisting the displaced, Margaret says the strain of supporting such a large influx of people is taking its toll on everyone.
As Pakistan embarks on the huge task of rebuilding, Margaret believes that investing in education is fundamental for the country's future. But she fears there will be a tendency among some to say: "education is not important; we need to send the children out to work to help us to survive".
The projects supported by Mercy Works Inc. in Karachi and Rawalpindi provide education opportunities for some of the most disadvantaged members of Pakistan society, particularly women, children and those from minority ethnic and religious groups.
Please consider making a donation so that we can help these communities overcome poverty and disadvantage.
You can support Mercy Works Inc.'s community development programmes online or by contacting us on (02) 9564 1911.