Archived News Item
Help end mandatory detention
July 22, 2008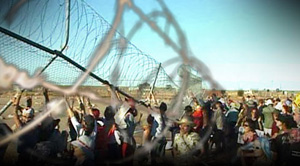 The Government has announced that it is establishing an Inquiry into immigration detention. The Institute's Specific Issues Committee, Asylum Seekers and Refugees has presented many insights into the issues faced by detainees, in particular personal reflections from sisters working in detention centres. The Committee encourages all people of good will to view the latest campaign from GetUp! which calls Australians to petition the government to address the issue of detention and "establish a just and fair immigration policy for the future".
The GetUp! campaign is calling upon the government to close a sorry chapter in Australia's history by bringing to an end Australia's inhumane detention regime.
GetUp! believes, along with many other refugee advocacy organisations, that the immigration detention regime should meet the following principles:
Detention should not be mandatory. A mandatory detention regime is a breach of basic human rights principles.
Detention should never be indefinite.
Detention must be reviewable.
Detention should be used as a matter of last resort.
Children should never be detained. Ever.
Detention centres should be humane. Detainees should be treated with dignity and respect. There must be genuine oversight by welfare and human rights bodies.
Detention centres should not be located in remote areas. Hiding asylum seekers away limits their access to legal, medical and social welfare services, and makes it difficult for family to visit.
Detention should never be used to punish those who seek asylum. Those who flee persecution have the right to ask for help.
Detention should be cost-efficient.
Detention centres should have differing security levels appropriate for different types of detainee.
From: Specific Issues Committee, Asylum Seekers and Refugees (Sisters Sally Bradley, Claudette Cusack, Geraldine Mugavin and Lorraine Phelan). The Committee warmly invites your response to the article or the issue.
Email: asylum.refugees@mercy.org.au

Contact: Carmel Heagerty RSM, Institute Justice Co-ordinator
Email: Institute.Justice@mercy.org.au