Archived News Item
Healthy mothers + healthy babies = healthy villages
June 15, 2011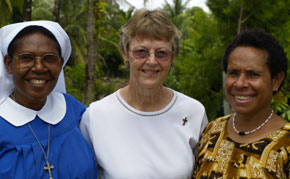 Over 100 representatives of various sectors of the community with a vested interest in health issues in the North Fly District gathered in Kiunga in March for a two-day Village Health Management Forum, the first of its kind in Papua New Guinea (PNG).
Initiated by Maureen Sexton RSM of Mercy Works Kiunga, the forum focused on developing strategies to protect women and children in rural and remote areas of the Western Province where, because of inadequate health services, maternal and infant mortality rates are excessively high.
Dame Carol Kidu, PNG's highly respected Minister for Community Development, opened the forum, stating that "health is everybody's business". She challenged community groups and organisations to join together to improve village health by using an OPEN strategy programme: ownership, partnership, empowerment and networking.
According to Maureen, the forum was able to clarify roles and responsibilities in village health programmes; kick-start implementation of the full National Village Health Volunteer Programme in the North Fly District; identify resources for village groups to use; and begin advocating the government and other avenues for the appropriate recognition of volunteers.
In addition, the Open Member for the North Fly District, Boka Condira, and Western Province Provincial Administrator, William Goinau, pledged their support to develop further village health programmes in the Western Province.