Archived News Item
Gunnedah to hand over aged care ministry
September 13, 2007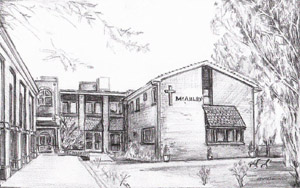 On Saturday, September 15, Gunnedah Sisters of Mercy will host a thanksgiving service and farewell to their McAuley Aged Care Facility where for 31 years they have provided residential care for frail, aged women.
Sketch: McAuley 1976-2007
Administrator of McAuley for the past 13 years, Sister Gabrielle Foley (pictured below), said that the Sisters of Mercy remember with immense gratitude the many people of Gunnedah and District who have volunteered their time and energy to enrich the lives of McAuley residents since 1976.
In a press statement inviting individuals and organisations who have supported this Mercy ministry to attend the thanksgiving service and farewell to McAuley, Sister Gabrielle said: "I hope that we can welcome hundreds of friends to McAuley in Henry Street on Saturday, September 15, commencing at 2:00pm."
To ensure that McAuley will flourish into the future, the sisters have collaborated with Gunnedah Nursing Home Association Inc. to build a 30 bed complex to provide low care in McAuley and dementia-specific care in Inala, both connected to the nursing home section in Lundie House.
The new facilities are designed to offer ageing in place for the residents, and will be effective in ensuring economies of scale under a single management structure.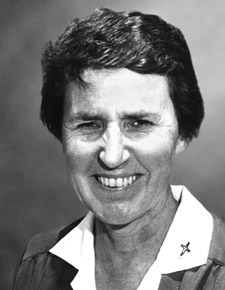 The Sisters of Mercy have assisted the funding of the $6.5 million dollar building by donating their licence for the 22 beds held by the original McAuley, and have also made a significant monetary contribution to the provision of a state-of-the-art aged care facility.
In addition, Sister Gabrielle Foley and other sisters who have been members of Lundie House Board of Management for many years have facilitated this unification of the aged care facilities in Gunnedah.
Pivotal to the achievement of the project has been Sister Gabrielle Foley who has occupied the positions of Vice-Chairman of Lundie House and Chairman of McAuley Board of Management.
The transfer of McAuley residents from the convent site to the new McAuley and Inala complex is scheduled for September 17-18. The Sisters of Mercy will subsequently decommission the old McAuley building.
On October 11, the Governor of NSW, Professor Marie Bashir AC, CVO, will officially open the new complex in Apex Road.
From: Sister Deidre Perrem RSM (Local Communications Facilitator, Gunnedah)