Archived News Item
Grafton ministry of hospitality in Sydney
October 20, 2009
Mercy House, Stanmore, in Sydney, NSW, is a ministry of the Sisters of Mercy, Grafton. It provides short-term accommodation to those who need to be in the city for a variety of reasons. For the last few years, it has hosted Moslem students from Melbourne University who come to Sydney for a Leadership Course at the Australian Catholic University.
This year, women from Somalia, Indonesia and Malaysia were welcomed. They sent back some photos of themselves with Cecilia Rowe RSM and the following message:
"How are you? We hope you are always fine there and God always protect you. Thank you very much for your kindness for all of us… We love to stay with you although it was only five days. We will always remember you."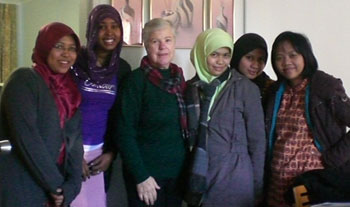 Mercy House began its life as a student house for Grafton sisters who regularly went to the city to do their teacher training courses. In the course of time, it doubled as accommodation for older sisters visiting Sydney for medical reasons and gradually came to extend its hospitality beyond the Grafton sisters to other congregations.
Nowadays, Mercy House is used by religious and lay women and men from all parts of Australia, and in fact from countries around the world. All the guests are either known to the sisters or recommended to them by other religious, friends or relatives.
Stanmore is close to the city and to public transport; it is very conveniently located near one of the major hospitals. Quite a few of those who stay at Mercy House are regular visitors to specialist medical facilities not available in the small country towns where they live. Others take advantage of educational opportunities that are easy to access from Stanmore. It is not difficult to walk to Stanmore railway station and there are restaurants and pubs close by; some prefer not to do their own cooking. The Mercy Institute Office is within walking distance for most! Mercy sisters involved at Institute level with formation, justice and other aspects of our shared Mercy life, make regular visits to Sydney for meetings. Mercy House is delighted to be able to offer hospitality to these sisters from across Australia and Papua New Guinea.
Those who come to Mercy House are as diverse as are the calls to Mercy. They come from Australia, New Zealand, Canada, USA, Europe and South-East Asia and the Pacific. Country parents visiting their children at city boarding schools find Mercy House is ideal accommodation. Here their son or daughter can spend a weekend with them. Religious sisters and lay people appreciate the opportunity to stay at Mercy House and enjoy a short holiday in Sydney, see a show at the Opera House or one of the many theatres in the city, or just catch up with friends.
To enquire about a visit to Mercy House, contact the Grafton Congregation Office on Ph: (02) 6643 2616 or Email: crhodes@graftonsom.org.au
From: Colleen Rhodes RSM (Local Communications Faciltator, Grafton)