Archived News Item
Grafton celebrates golden jubilees
October 19, 2009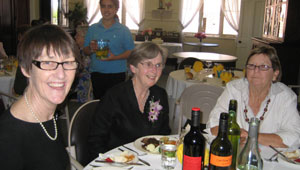 Grafton Sisters of Mercy gathered on September 24 to celebrate Our Lady of Mercy Day and the golden jubilees of Clare Murphy RSM and Yvonne Channells RSM (currently on mission in Lodwar, Kenya). Colleen Rhodes RSM (Local Communications Facilitator, Grafton) reports.
September 24 was chosen as a particularly fitting day for jubilee celebrations in Grafton. Sisters Clare Murphy and Yvonne Channells reach their golden jubilee of religious profession this year. Yvonne is on mission to the Turkana people of Lodwar in Kenya so was unable to be present for the gathering, but Clare was surrounded by the sisters who travelled from around the diocese to mark the occasion.
A prayer ritual combined a celebration of the Feast of Our Lady of Mercy and the golden jubilee. We lit our profession candles (or jubilee candles for those who'd reached that milestone) and placed them all together as we renewed our vows and our consecration to Mary, Mother of Mercy.
Sister Barbara Bolster, Congregation Leader, spoke about Jesus' ministry statement in Luke's Gospel as a proclamation of jubilee; as Sisters of Mercy we have a special call to live as jubilee people throughout the whole of our lives. Freedom and forgiveness are to be our gifts to those in need.
Sister Clare spoke about her life as a Sister of Mercy over the last 50 years, making some references to the formative influences of her childhood and youth. It seems there were some 'Ginger Meggs' escapades in the lives of the young Murphy children!
Download Barbara Bolster's reflection here.
From: Colleen Rhodes RSM (Local Communications Facilitator, Grafton)