Archived News Item
Grafton celebrates 175 Mercy years
December 21, 2006
As we gathered to celebrate 175 years since the Sisters of Mercy were founded in Dublin, Ireland and 25 years since the Institute of the Sisters of Mercy Australia was established, representatives from ministries in which the sisters have worked in the Lismore diocese – parishes, schools, aged care facilities, residential care for children and young people – processed into the church. They carried with them cards on which participants and others who could not come had recorded their reasons to be grateful for Catherine McAuley and the Sisters of Mercy.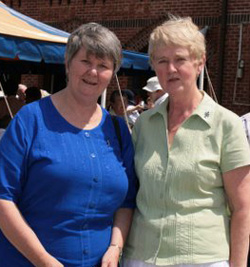 Sister Barbara Bolster, Congregation Leader, welcomed all to the celebration. Father Dennis Carroll (Vicar General), acknowledged the Bundjalung and Gumbainggirr people whose lands are bordered by the Clarence River. Seventeen priests gathered around the altar and several hundred sisters, associates, ex-students, colleagues and friends joined to celebrate a Mass of Thanksgiving for the life of Catherine McAuley. Institute Vice-President, Sister Caroline Ryan RSM was a special guest. Another welcome friend was John Hamilton from Casino. John's grandmother went to school at Baggot Street in the late 1800s.
A very moving part of the celebration was a reflection by Sister Rosemary Carroll, Executive Officer of Mercy Works Incorporated. Rosie, who was previously Director of Mercy International Centre, spoke of Catherine, her vision and charism. She also described her recent visit to East Timor on behalf of Mercy Works. With Catherine's heart Rosie saw and heard told the poverty and need of the East Timorese people. She reminded us of the words of the prophet Habbukuk: "the vision still has its time, presses on to fulfilment and will not disappoint." (Hab 2:2) "However", she assured us, "we can only press on to its fulfilment if we collaborate with our associates and colleagues. Only if we can harness the resources of all those who desire to be part of a humanitarian effort, will we have enfleshed the vision once again and bring relief to our sisters and brothers in places such as East Timor." DOWNLOAD THE FULL TEXT OF ROSIE'S ADDRESS.
After the Mass, most of those present stayed to enjoy a picnic lunch. Fortunately, we had a cool enough day and marquees ensured that we lunched without the direct glare of the Northern Rivers summer sun! Bill Dougherty from Grafton spoke of the presence and ministry of the Sisters of Mercy in Grafton and Isobel Brown from Kempsey recorded their work on the Macleay.
Sister Barbara Bolster invited all to reflect on the needs of our world, suggesting that we might ponder the cosmic dimensions calling for compassion today. Just as Catherine imagined new ways of responding to need, so Sisters of Mercy and their associates, colleagues and friends and invited to be the compassionate imagination in our world. Barbara observed that after responding with a story, Jesus told the lawyer inquiring who he should treat as neighbour, to "observe what the Good Samaritan had done and to do likewise." Our challenge, she reflected, is to imagine what "˜likewise' looks like in our region of the world today.
From: Sister Colleen Rhodes RSM (Local Communications Facilitator)
Email: mergen@nor.com.au