Archived News Item
Graduation ceremony at home for Townsville Mercy
March 20, 2007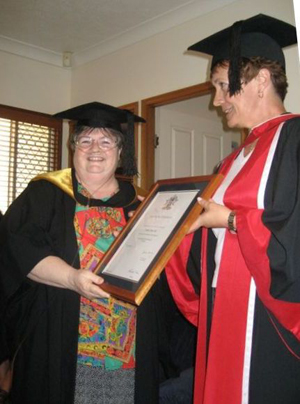 On Saturday March 10, fifty Sisters of Mercy, family and friends gathered for a private ceremony at Lerew Court, Annandale to celebrate Sister Ros Carr's graduation from James Cook University.
After Townsville Congregational Leader Sister Marie Melville welcomed all to the ceremony, Pro Vice Chancellor Professor Janet Greeley conferred Ros' degree of Master of Psychology (Clinical). Ros's terminal illness prevented her from being able to attend the official graduation ceremony to be held later in the year.

PVC Professor Greeley said that although Ros was only now receiving her graduation certificate, she had actually been practicing the skills of a psychologist for years in her various ministries in religious life.
Professor Edward Helmes who had worked with Ros over the past five years congratulated her warmly. He observed that one measure of the regard in which she was held, was that he and other staff sometimes used videos of her working with individuals in the University Clinic to demonstrate therapy and assessment techniques to other students.
Ros was delighted to have the opportunity to "˜graduate' in front of family, friends, and community and thanked all who had supported her in so many different ways to reach this milestone.

There was a wonderful atmosphere of joy as we celebrated her achievement, and after the formal ceremony, a delicious afternoon tea was enjoyed by all who gathered.
From: Sister Margery Daly RSM (Local Communications Facilitator, Townsville)
Email: mmdaly@bigpond.com