Archived News Item
Goulburn using web conferencing for chapter preparation
August 2, 2007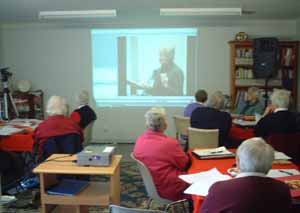 As Goulburn Sisters of Mercy prepare for their Chapter later this year, they are making the most of twenty-first century communications technology to include sisters unable to be physically present at the programme of regular meetings. Sister Shirley Garland (Local Communications Facilitator, Goulburn) reports.
The Goulburn sisters have been continuing with a programme of regular meetings in preparation for their Chapter which will occur over two separate three-day periods in October and November.
We are grateful to Fraynework Multimedia (Melbourne) for the assistance given in web conferencing these events. This means that sisters can reduce their travel and that we can include those sisters who are at an extreme distance or, indeed, are overseas.
The programme has not gone completely without a hitch, but we have been able to improve our facilities each time. They are now near perfect! Those able to be heard from overseas and Queensland have been very excited both to see and hear, and "not be left out".
The photos included here show you our sisters in Albury listening to and seeing a presentation being made by Sister Gwen Garland from the venue in Young. Simultaneously, Sister Colleen Livermore was experiencing the same in Queensland.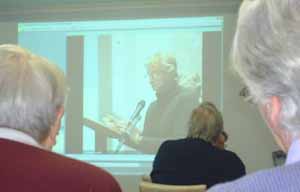 Imagine what this offers to our communication! Particularly, imagine how travel across the Institute can be reduced in this way!
From: Sister Shirley Garland RSM (Local Communications Facilitator, Goulburn)