Archived News Item
Goulburn sister launches new CD of songs
May 19, 2010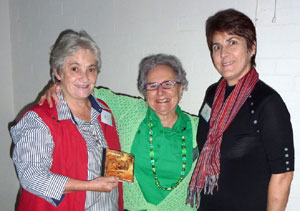 Goulburn Sister of Mercy, Helen Kearins, described as "one of Australia's great fighters for reconciliation and justice", has launched a new CD of songs entitled In This Land.
Commenting on the release of the CD, Phil Glendenning, Director of the Edmund Rice Centre in Sydney, said Helen's "songs are infused with a deep spirituality of justice, and extend from the green hills of Ireland to the red heart of this nation.
"She sings the stories of real people and allows us to imagine what might be possible if we find the heart, the wit and the spirit to right the wrongs of our history and build a future where Indigenous people can take their rightful place in the life of this country."
One of the songs on the new CD, 'Mercy and Justice Shall Meet', was performed at last year's Mercy Justice Conference in Queanbeyan.
The CD is available for $20 (including booklet with lyrics) plus $5 (postage and handling). To purchase In This Land, download an order form here.
For orders of multiple copies and payment inquiries contact Ali Betts, Email: alison@goulburn.mercy.org.au For other inquiries contact Helen Kearins, Email: helenkearins@gmail.com