Archived News Item
Goulburn sesquicentenary travelling exhibition
November 1, 2009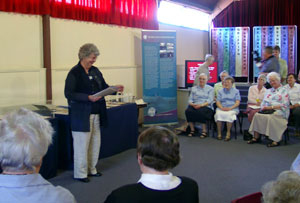 Sisters of Mercy of the Goulburn Congregation are grateful to Nancy Clarke (pictured right) and Claudia Hyles for their work in creating a travelling exhibition which outlines the history of the Mercy Sisters in south-eastern NSW over the last 150 years. Shirley Garland RSM (Goulburn) reports.
Accompanying the Goulburn Mercy sesquicentenary celebrations is a travelling exhibition of the history of Mercy in south-eastern NSW over the last 150 years.
The sisters are grateful to Nancy Clarke and Claudia Hyles for the work they have done in bringing together a very rich story dotted by colourful vignettes and exciting reminiscences.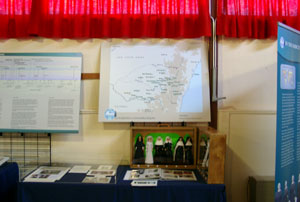 On Saturday October 27, the exhibition was opened in the school hall at Trinity College in Goulburn (Marian Campus). This was the site of the first convent and school which was opened in 1862.
The highlight of this opening was the presence of the two visiting sisters from Ireland – from Westport, Sr Bernadette McNally, and from Rochfort Bridge, Sr M Pius Doran. Six sisters had left Westport under the leadership of Mother M Ignatius Murphy in 1859 to make a foundation in Goulburn, and later, Mother Ignatius went on to begin another foundation in Albury in 1868.
Mother M Paul Joseph Fielding, with two other sisters, left Rochfort Bridge in 1875 to make a foundation in Yass. The exhibition illustrates these two great stories and explores the Mercy mission in the subsequent years.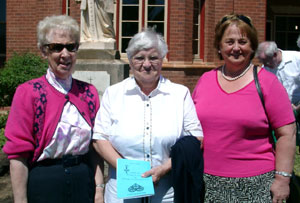 The Irish visitors (pictured left to right) are: Srs Bernadette McNally and M Pius Doran with Joan McDermott.
The Exhibition Itinerary:
The 2009 venues are:
October 24, 25, 26: Goulburn Trinity Catholic College Study Hall
October 31, November 1, 2: Young Catherine McAuley Hall
November 6, 7, 8: Queanbeyan Arts Centre (co-inciding with the Institute of Sisters of Mercy of Australia Social Justice Conference)
November 14, 15, 16: Yass, Mount Carmel School Study Hall
November 21, 22, 23: Albury, Sacred Heart Parish Hall
Novena at Graves of Sisters
Following the main functions in Goulburn on October 23, 24 and 25, we will hold a novena of prayer for our deceased sisters from November 11 to 20. Click here to view the roster.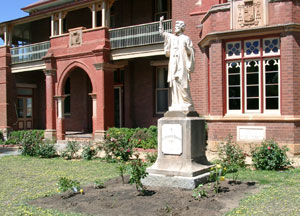 School children honour the 150 years
On Friday October 23, the Catholic school children of Goulburn and Crookwell invited the sisters to attend a Mass with them in Sts Peter and Paul Old Cathedral, Goulburn. This was a wonderful celebration of the past, but also provided an opportunity to cherish a vision of Mercy for the future.
After the Mass the sisters and students went to the presbytery gardens, there to plant Catherine McAuley roses, along with the Goulburn City rose in a specially prepared garden bed.