Archived News Item
Goulburn congregation celebrate jubilees
March 23, 2011
The sisters from the Goulburn Congregation gathered in Young on Saturday, March 19th to celebrate the Jubilees of the following sisters: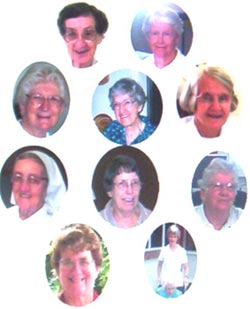 70 Years
Pat O'Connor
60 Years
Ursula Drennan
Therese Anne Esler
Catherine Hughes
Marie Mahony
Aileen Wailes
50 Years
Kathleen McCarthy
Maria Assunta Roberts

40 Years
Carina Morton
The Mass was celebrated in the Mount St Joseph's Convent Chapel in Young. After the Mass all adjourned to a dinner provided in Catherine McAuley Hall where many stories were shared and the commitment of the nine sisters honoured.
On the Sunday we were happy to welcome Maree Haggerty rsm to work with us as we prepare for the change which is to come within the New Institute. Maree's presentation, entitled "Become the Change that will Change the World", was warmly appreciated. She provided us with the opportunity to search deeply into our own attitudes and responses; our spirituality and commitment, all in an atmosphere of humour, loving relationship, challenge and a deep wisdom.