Archived News Item
Goulburn celebrates jubilees of five sisters
March 24, 2010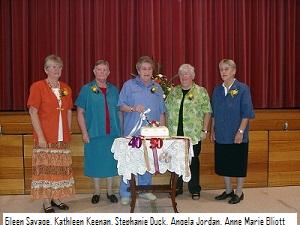 "The Goulburn sisters recently had a weekend of events," writes Shirley Garland RSM (Goulburn). "On Saturday March 20, the sisters, along with one of our friends from the Rockhampton Congregation, Marlene Fitzgibbons RSM, gathered in Young, NSW, to celebrate the jubilees of Stephanie Duck RSM (60 years); Angela Jordan RSM and Anne Marie Elliott RSM (50 years); and Eileen Savage RSM and Kathleen Keenan RSM (40 years)."
The celebrations began with Eucharistic Liturgy presided over by Father Richard Thompson. Before renewal of vows, each jubilarian received a candle on which was inscribed the motto she adopted at profession.
The Eucharist was followed by a celebratory dinner and much reminiscing with great enjoyment dominated the afternoon.
On Sunday March 21, all remained in Young for an assembly at which the sisters completed the Goulburn Congregation's indicative vote regarding reconfiguring.
From: Shirley Garland RSM (Local Communications Facilitator, Goulburn)