Archived News Item
Goulburn associate reflects on Baggot Street experience
December 9, 2008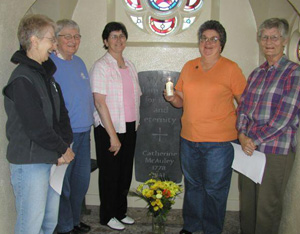 Anne Simons, a Mercy Associate of the Goulburn Congregation, recently returned from Ireland where she participated in a two-month volunteer programme at the Mercy International Centre, Baggot Street, Dublin. Anne reflects on the experience.
My name is Anne Simons (pictured holding the candle). I am a Mercy Associate for Goulburn-Canberra and my story is about being a volunteer for eight weeks from September 3 to October 30, 2008.
I was confronted while I was on retreat at Star of the Sea, Yamba NSW, and in early March of 2007 by the sisters, to find information on how to become a volunteer at Mercy International Centre. Taking this on board, I went up to Byron Bay for 4 to 6 weeks to digest everything from my retreat and this challenge on how to apply to become a volunteer.
So I put this to prayer and left it with God. But it would not go away because 14 years ago I wrote in my journal this prayer: "to be able to pray at Catherine's grave in Baggot Street, Dublin, Ireland". This prayer was answered this year: to have the pleasure to be at Catherine's house on MERCY DAY 2008 and to renew my commitment to the Mercy Associates at Catherine's grave.
To work at Mercy International Centre (MIC) was a rewarding experience for me and to meet so many women filled with the Mercy Spirit was also rewarding. As I walked through Catherine's house over these eight weeks I could feel her spirit fully alive within the corridors of MIC. Catherine was truly present as I served many cups of tea for the many groups who passed through the doors and the Sisters of Mercy who visit their roots of Mercy.
To meet also the people who live in Ireland and specially the conference groups from Government bodies that came through and to serve morning and afternoon tea to them. A man from a group came up to me and asked me: "Can you see Catherine standing in the corner of the dining room just smiling gently to everyone?" How wonderful for this man and I to share in this spiritual moment together.
For me to work and live my mercy faith as an associate was so very rewarding and no words can explain. You have to visit Mercy roots to understand mercy values and have faith to walk your journey with Catherine and your God just as she did.
To find out about the two-month volunteer programme at Mercy International Centre follow this link.