Archived News Item
GOOD FRIENDS FOR LIFE
November 8, 2016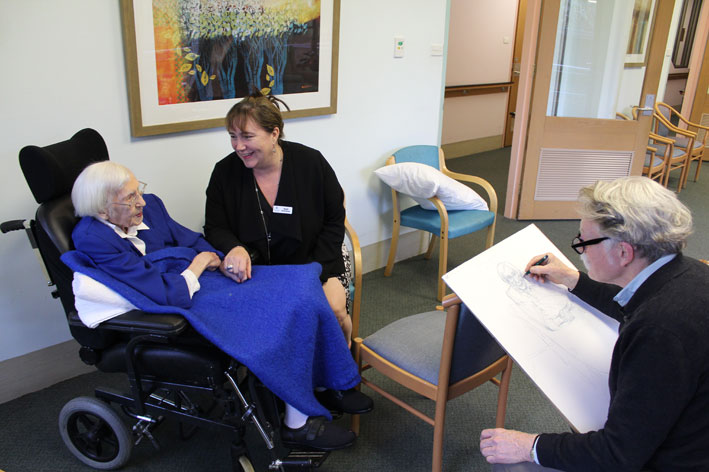 8 November 2016
In her portrait she appears with kind, gentle eyes peering over her glasses, her hands lightly folded and a patient, serene smile playing on her lips.
It took Melbourne artist Peter Wegner just two hours to capture the likeness of Mercy Place Abbotsford resident Good Shepherd Angela O'Donoghue rsm, who turned 100 on 11 August 2016.
The figurative sketch will form part of Wegner's next touring exhibition, a growing collection of centenarian portraits.
"I am fascinated by the whole process, by how some humans live so long," says Wegner, whose aunt Rita died last year aged 104. "I have asked all the centenarians I have met, and there is not one secret to longevity."  When asked her secret, Sr Angela doesn't miss a beat: "Good friends," she says.
Christened Kathleen Mary O'Donoghue, Sr Angela, who has lived at Mercy Place Abbotsford for the past five years, is the first nun in Wegner's centenarian collection.
Born and raised in inner Melbourne, Sr Angela recalls the Great Depression among the hardest times in her life. "I remember pushing the car because we had no money for petrol," Sr Angela says.
Upon leaving school, Sr Angela attended business college and secured a good job as an executive assistant at the Shell Corporation. She joined the Good Shepherd Sisters in her early 20s, but returned to live with her parents upon the outbreak of World War II. Sr Angela nursed them in their old age and re-entered the convent in 1961, aged 45.
Sr Angela lived in a many Good Shepherd Sisters communities, including Boronia, Abbotsford, Bendigo, Albert Park, Adelaide and Oakleigh. Her primary job was archiving: "I was busy all the time," she recalls.
In her time off, Sr Angela enjoyed driving to the Dandenong Ranges for picnics that included delicious homemade sandwiches and jam rolls.
Sr Angela counts the years spent in service to God among her best. She still says the Hail Mary regularly and attends Mass at the Mercy Place Abbotsford chapel. "I have a very good relationship with God," Sr Angela says.
Messages to: Mercy Health