Archived News Item
Golden jubilee celebration for Perth sister
June 25, 2008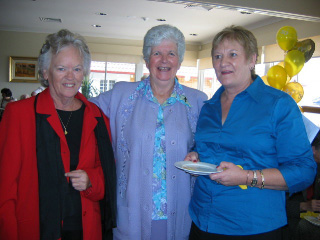 Congratulations to Sister Joan Kelleher RSM of the Perth Congregation (pictured right in the centre) who celebrated the golden jubilee of her profession on May 24. What follows is an excerpt from a reflection delivered by Sister Marcella Blake RSM (Perth) at the celebration.
Even a quick glance over the life and work of Sister Joan Kelleher shows her to be a woman of extraordinary courage, generosity and energy for life. Enthusiastic in the pursuit of justice, Joan speaks from a heart filled with faith and trust in a loving and merciful God. This deep faith is at the very core of Joan's professional work as a Sister of Mercy.
Joan was born in County Cork, Ireland and came to Perth, Western Australia in 1955 and made her final commitment in 1961. Following teacher training studies, Joan became an enthusiastic primary school teacher, and in due course, a principal in schools spanning the city, outer suburbia as well as in rural areas.
In 1983, Joan responded to a request from Bishop William Foley of Geraldton to work in the Pilbara town of Mount Newman. She joined Sister Mary Rose Beard from Perth Congregation and Sister Mary Benignus from the West Perth Congregation. Joan created, with the assistance of the local people, a pastoral ministry programme suited to this outlying area.
After being involved in English classes for migrants, involvement with parents in faith education, counselling services and interdenominational workshops, Joan then took leave to pursue more studies.
In 1988, she returned to Cork, Ireland, to take a clinical pastoral education course geared to becoming involved in caring for the sick. On returning to Perth, Joan worked briefly at Catherine McAuley Aged Care Hostel.
During 1989, Joan felt called to respond to the plight of asylum seekers in South East Asia. After listening to a talk by Sister Carole McDonald describing her work at Bidong Refugee Camp in Malaysia, Joan's passion for justice led her to think, "I've got energy. I could do something like that!"
In 1990, Joan joined the Jesuit Refugee-Mercy Refugee Service ministry in Sungesi Besi Camp in Malaysia where 11,000 Vietnamese and Cambodian people were detained. Joan saw herself as a support, an enabler, as someone who was WITH these people – a service of presence. Joan continued this offshore ministry at:
Sie Khieu Camp in Thailand;
With the Bhutanese people in Nepal;
Adjumani in Uganda with the Sudanese refugees.
Steve Curtin SJ, then Director of the Jesuit Refugee Service wrote to Joan: "…If you had given only your kind heart, that in itself would have been something great, but you have given also of your professional expertise…your knowledge about how children learn and how to bring out the best in each person and their teachers…these are wonderful gifts…"
Since 2004, Joan has been a member of the Perth Leadership Team and continues her pastoral care role one day a week in the parish of Ballajura.
In your life giving ministry to people you have truly experienced a Mercy and justice embrace.
From: Sister Joan Smith Local Communications Facilitator, Perth