Archived News Item
Going from Strength to Strength
February 24, 2015
MERCY CONNECT: Going from Strength to Strength
One of the projects of Mercy Works is the Mercy Connect Program which is going from strength to strength since commencing in 2011.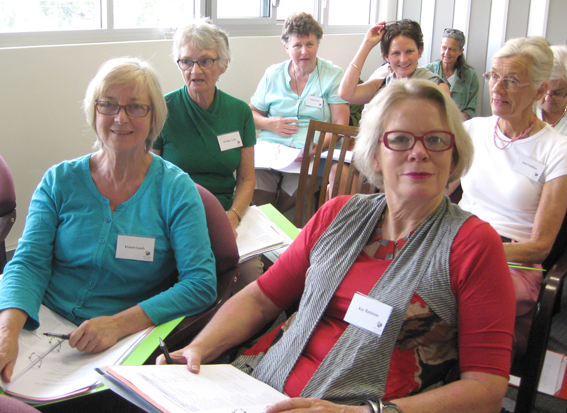 Since its inception in 2011, the Mercy Works Mercy Connect Project has grown dramatically. The program trains and supports volunteers who help students from refugee or humanitarian backgrounds as they adapt to learning in Australian schools
There are currently four Mercy Works Projects: in Melbourne, Sydney, Ballarat and Perth. Last year close to 1,000 students were helped through this project.
Earlier this month training sessions for new volunteers were held in Sydney, Melbourne and Perth. The majority of volunteers have a background in education. Many are retired teachers or principals looking for a way to remain engaged with schools and use their skills to help refugee and humanitarian students who are struggling at school.
After two days of intensive training, the volunteers are provided with resource and are supported through email, phone and face-to-face contact with the project coordinators.
Having a positive impact
The challenges for students trying to learn a new language and adapt to different cultural norms, while trying to learn regular school lessons cannot be underestimated. However a recent survey carried out among coordinators in schools where Mercy Connect volunteers work was extremely encouraging.
Over 94% agreed that Mercy Connect met the needs of targeted students in the school (with over 35% strongly agreeing). They believed students had benefitted from the project in a number of key ways:
• Increased confidence – 82%;
• Better social skills – 47%;
• Noticeable academic achievement – 23.5%;
• Academic progress – 70%.
These wonderful results are testament to the skill and dedication of the volunteers, the support they receive from the school and also the willingness of the students themselves to make the most of the opportunity provided to them.
There are many spinoffs of this program for the families as a whole. As the confidence of the students increases they are able to help other family members settle into life in Australia.
If you're based in Sydney, Melbourne, Ballarat or Perth and have previous experience in an educational setting, consider volunteering for Mercy Connect. You can find out more by visiting the Mercy Works website.
Messages to: Margaret Coulter – Development Officer Mercy Works