Archived News Item
Giving Timorese children an opportunity to thrive
October 30, 2010
WORDS BY Stephanie Thomas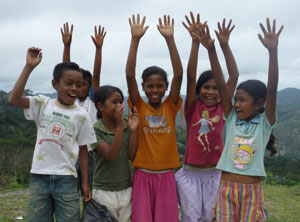 For the parents of young children from a remote mountain village in the southwest of Timor Leste, their dream of having a pre-school in their community has been realised.
After many months of consultation, planning and construction, the Mercedes Early Childhood Learning Centre in Datorua is open and operating successfully.
Two young female teachers are providing over 20 pre-school-aged children with creative and practical educational and play experiences that will assist their cognitive, emotional and social development.
A nutrition support programme also forms part of the Centre's activities, contributing significantly to the children's health.
"Right from the start this project has been community driven," says Gaye Lennon RSM, Mercy Works Inc. Offshore and Indigenous Projects Co-ordinator.
Having seen how children at nearby Fohorem were benefiting from pre-school education opportunities, members of the Datorua community approached Mercy Works Inc. for help to build a similar type of preschool facility in their village.
The community desperately wanted their four, five and six-year-olds – too young to make the long trek to Fohorem each day – to have the same educational opportunities.
"Mercy Works Inc. is proud to have partnered with the people of Datorua to establish the Mercedes Early Childhood Learning Centre," says Gaye.
"The community's commitment to provide early learning opportunities for their children is to be commended. They have recognised that educational experiences in children's early years are critical for their overall development and future prospects."
Gaye believes that early learning programmes make a real and lasting difference in children's lives.
"By providing learning experiences at this stage, children are more likely to go on to primary school and will be better prepared for the experience, thus building a strong foundation for their future education and employment prospects," she explains.
But children are not the only beneficiaries of this project. During the construction phase many local people gained skills, regular work and an income to support their families. And now parents and other community members will continue to support the development of the Centre through ongoing building maintenance and help with the nutrition programme.
"From all reports, the Centre is making a big difference to the lives of many in the village," says Gaye.
The Mercedes Early Childhood Learning Centre comprises a main teaching area, staff room, store room, large outdoor kitchen and two toilets. Large verandahs also provide another space for under-cover activities.
Thank you to all who have helped to make the Mercedes Early Childhood Learning Centre a reality, but more support is needed. If you can help, please contact Mercy Works Inc. by Ph: (02) 9564 1911 or Email: mercyworks@mercy.org.au or donate online.