Archived News Item
Giving girls an education: Nuba Mountains Sudan
June 3, 2009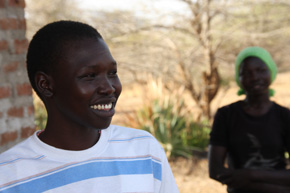 WORDS BY: Cathy Solano RSM*
For 18 year-old Hannan (pictured) and other girls living in the Nuba Mountains in central Sudan, poverty, social customs and the aftermath of a protracted civil war all combine to limit educational opportunities.
Hannan's parents are poor and cannot afford the small amount required for school fees. In her culture, Hannan is expected to care for the family's needs: walking long distances to collect water and wood, digging and harvesting for food, and washing, cleaning and cooking.
Moreover, girls like Hannan are of marriageable age and receive sizeable dowries, making education less attractive for parents.
Another barrier to education for Hannan is that her family lives 50 kilometres from the closest secondary school and she has no safe or suitable accommodation near that school.
Boys are not so disadvantaged. They are given preference over girls if money can be spared. They are considered more academically capable and are seen as a future investment for the family.
Just four years ago there were no female students enrolled in the only secondary school in the Nuba Mountains. The few attending primary schools dropped out between the ages of 12 and 15.
In 2006, an Affirmative Action Programme, supported by Mercy Works Inc., was initiated to attract and keep girls in the Nuba primary and secondary schools. The programme paid two-thirds of the girls' school fees, bought school uniforms and provided them with underwear and sanitary pads so they didn't have to stay home when they were menstruating.
In 2007, with the backing of Mercy Works and Italian NGO, Sorriso Per il Sudan, a 32-bed hostel was built and refurbished in the compound of the new secondary school in Gidel.
In 2008, 17 F1 and 12 F2 female students moved into their hostel and were provided with a bed, mattress, linen, blankets, a washbasin, and a small locker for their personal items.
By the end of 2008, the overall retention rate of girls in the upper classes of the primary schools rose to 32 per cent – almost double what is was in 2005. At the start of the 2009 academic year, there were 51 girls living in the 32-bed hostel.
Sister Amal, the Diocese of El Obeid's Education Co-ordinator, reports that the young women don't mind the limited space. For them to be in the hostel is a blessing and a great opportunity for education.
Now Hannan, who is currently in F2, and other young women from the Nuba have a chance to continue their secondary education in safe accommodation away from home.
Because of the generosity of Mercy Works Inc. donors, the Affirmative Action Programme for girls' education in the Nuba Mountains can be sustained until the end of the 2010 academic year.
The young women of the Nuba – girls like Hannan – say 'thank you'!
*This year Cathy Solano RSM started in the new role of Community Education Officer at Mercy Works Inc. Between 2005 and 2007, she worked in the Nuba Mountains as the Diocese of El Obeid's Education Co-ordinator. Cathy can be contacted on Ph: (03) 9499 1577 or Email: CSolano@melbmercy.org.au
Photo credit: Sorriso per il Sudan