Archived News Item
Giving children a future in Pakistan
December 18, 2008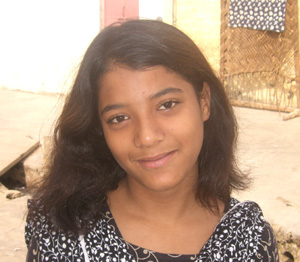 Two schools on the outskirts of Rawalpindi and Karachi supported by Mercy Works Inc. are providing a promising future for some of Pakistan's most disadvantaged children.
WORDS BY: Stephanie Thomas
Ten-year old Cynthia Nathaniel (pictured right) hopes to be a school teacher one day. If Cynthia had been born in Australia, her hope would be realised almost certainly. But because she was born in Pakistan, her chances of completing primary and secondary school – let alone university – are highly unlikely.
Cynthia lives with her family in Mughalabad, a settlement of about 250 Christian families on the outskirts of Rawalpindi, near Pakistan's capital, Islamabad. People here eke out an existence in very low paid work, sweeping roads and cleaning public toilets and drains. Their housing is very basic and overcrowded, sanitation is poor and safe drinking water must be sourced elsewhere.
Cynthia's father has a better job than most in Mughalabad. He is a taxi driver. But because he doesn't own a car and must hire one, his income is reduced. A recent heart operation now limits Mr Nathaniel's ability to work.
Mrs Nathaniel suffers from a psychological condition. She finds it difficult to cope with the needs of her four young children, who spend most of their time roaming the streets. Cynthia, however, has been attending St Joseph's Primary School in Mughalabad. A bright student who enjoys school, she believes that only education will free her family from their financial problems.
"I have been trying to convince Cynthia's parents to send their other children to school", says Pakistan-born Sister of Mercy, Anila Isaac. "The last meeting seemed hopeful. The father has promised to send five-year old Maliaka to school."
But Anila realises this probably won't happen. For parents who are desperately poor, children are a means of earning an income for the family. Financial survival is a higher priority than sending children to school.
"It's easier for them to buy tomatoes for ten rupees than to pay for school fees", she explains.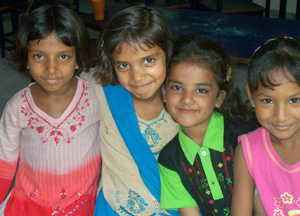 For the last two years, Anila has been working with teachers and students at St Joseph's and families from the Mughalabad settlement to improve enrolments, attendance and the overall functioning of the school.
St Joseph's was established in the 1960s by the Catholic Diocese of Rawalpindi. The school is open to all people but is mostly attended by the high concentration of Christians in the area.
Morning classes cater for children aged four to ten, and in the afternoons, a special nursery and tuition programme is offered. The nursery programme prepares pre-school age children for primary school and encourages future enrolments, while the tuition programme provides extra assistance to students in the school. It also targets children at Mughalabad who've never attended school and prepares them for their age appropriate class.
Anila says that about 90 students attend the afternoon programme, but during the summer break they get hundreds from other schools.
"We do not refuse anyone", she says. "It's important, because they go back home and talk about what they did. Some days I go and visit families and some of the mothers say: 'They come home and they say they've been watching TV, they've been listening to music, or they've been dancing. What would they learn sister?' I say: They learn to be children!"
For Anila, the people of Mughalabad "have loads to offer". She recalls the words of a friend: "there could be Einsteins in these areas who would go unnoticed". Anila's ambition is "to discover those Einsteins".
Like Mughalabad, Baldia Town on the fringes of Karachi City in Pakistan's south, is home to a religious minority group denied many of their human rights. Known as haris, these Hindu peasants have migrated to Karachi from the tribal areas of the Sindh province to seek a better life, but tragically, this has not been the case.
They are treated as refugees and 'untouchables'; they have never had permanent housing, and are forced to live in slum communities or busti without access to water or electricity. Their tent-like shelters are made from tree branches and rags (pictured below).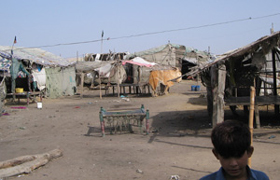 According to Sister of Mercy, Margaret Madden, who has been working in Pakistan for about 14 years, Baldia Town is a dangerous place to visit. "It's often a very violent and volatile area". This is due to extreme poverty, high unemployment levels, excessive drug use and political activity, she explains.
Some in the busti are bonded labourers, while women and children resort to begging or selling goods on street corners. Because of their status in life as members of the lowest caste, hari children are often not welcome in government schools.
Over the last ten years, two community schools have been established in the Baldia busti by Australian Sisters of Mercy working in Pakistan. These schools provide a sound educative and non-discriminatory environment for haris and children of other minority groups.
Since the schools began, the number of children attending has increased from 17 to 114. Families are recognising the value of a basic education and the possibilities it can open up for their children and future generations. From initially paying no school fees, they now pay a minimum monthly fee.
Those children who complete their primary schooling at Baldia can then be admitted to the local parish secondary school. And while many of the girls still marry at about 12 years of age, they now have a basic education.
Through the Baldia schools, women are also educated in basic health care and hygiene, and at this stage, about 80 per cent of babies and young children have received free immunisation shots.
But there are many families who choose not to send their children to the Baldia busti schools. "The children have got to go out and work", says Margaret.
"They're either selling toys or cleaning windscreens at traffic lights; they're at the factories, they're fixing the cars, they're out begging, they're in tea shops. For many of the families, it's everyone who can walk goes out to see how many rupees they can bring in.
"A lot of people don't see the value of education as yet. Once people begin to see the value of it, then they work towards what their kids could do with an education… To change that cycle is difficult", she explains.
According to the United Nations Development Programme, nearly one-third of Pakistan's 158 million people live below the national poverty line. For Margaret Madden and Anila Isaac, the causes of poverty in Pakistan are complex. But they believe passionately that a significant way forward is through education initiatives.
"I am really, really grateful to those people who support [the Mughalabad] programme because I think there is hope in these people", says Anila. She believes that Pakistanis who are already educated are more likely to head overseas for better opportunities, whereas those in places like Mughalabad "are the people who will make the new Pakistan".
Some of the dangers faced by Pakistan's children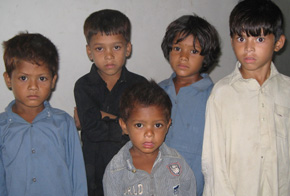 For a vast number of children in Pakistan their childhood rights are denied on a daily basis, and disturbingly, this is regarded as an acceptable part of life by too many people.
UNICEF, the UN's agency for children, estimates 3.6 million children under the age of 14 work, mostly in exploitative and hazardous conditions, for their own and their family's survival.
Child labour – whether it's working in factories, begging on streets, attending to household duties or caring for siblings – severely hinders or simply ends a child's ability to attend school.
Arranged child marriages continue throughout Pakistan, despite the government's ratification of the UN Convention on the Rights of the Child, which prohibits child marriage.
Karachi-based Sister of Mercy, Margaret Madden believes that culture and custom drive child marriages but there are other contributing factors. To settle family disputes, a very young girl may be promised to a much older man, or to alleviate a poverty-stricken family, a girl may be sold for marriage.
Margaret recognises that child sexual exploitation and trafficking exist in the country but they are not spoken about in the community. She says it's widely known that many boys from Pakistan are sold to become camel jockeys in the Middle East. "It's a big betting sport", she says.
Sister of Mercy, Anila Isaac, who works in Rawalpindi, speaks of another significant issue for children in Pakistan: the psychological effects of a volatile social and political environment, where violence and bombings are commonplace. She says that children soak in a lot: "They do talk of it, and loud noise makes them wonder as well".
"Who will talk with them [to help them process it]?" she ponders.
It's amazing to think that in the midst of these disturbing situations children still manage to play. But as Margaret Madden points out: "it's not the freedom of childhood play in the way that we know it in Australia".
PAKISTAN AT A GLANCE
population 158.1 million
32.6% of population living below national poverty line
life expectancy 64.6 years
under five mortality rate 99 per 1,000 live births
adult literacy rate 49.9%
primary school attendance rate 56.5%
secondary school attendance rate 20.5%
about 3.6 million children under the age of 14 work
government spends 20% on defence, 1% on education