Archived News Item
Give Education. Give Opportunity.
April 27, 2017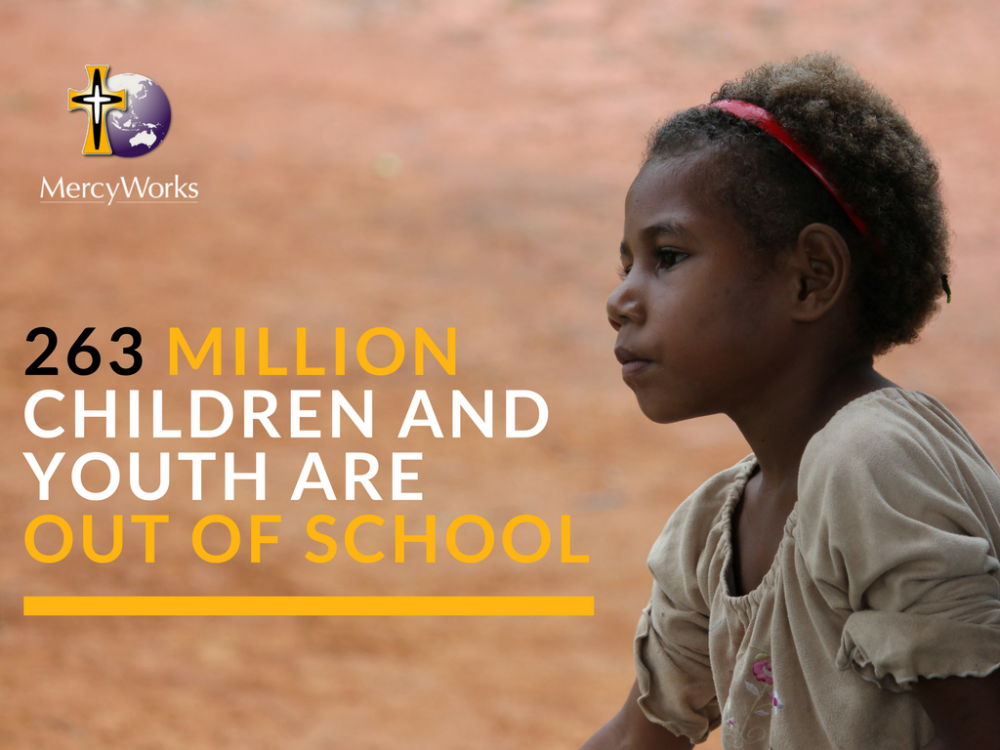 Mercy Works has launched an appeal to promote education in Timor-Leste and Papua New Guinea to help children get into the classroom and stay there.
Education is the best investment we can make to break the cycle of poverty. However, despite the progress that has been made in promoting lifelong learning, globally, 263 million children and youth are out of school. Our poorest neighbours in the South-East Asia Pacific region in particular are facing an education crisis with a large number of primary school-age children still out of school.
Mercy Works has always been a strong advocate of education with many of our projects geared towards ensuring every child, youth and adult has the chance to access quality education, regardless of whether they are male or female, rich or poor, disabled or not, living in remote areas or in urban centres. Since our establishment 16 years ago we have witnessed first-hand the transformational change that takes place in a community when there is access to quality education.
Timor-Leste
Only 17% of Timorese four-year-olds attend pre-school, compared to 89% in Australia. Nearly one-third of Year 1 students repeat the grade as many end the year unable to read a single word of a simple passage. Many children will drop out before they complete Year 6, with recent figures showing that 29% of 15-24 year olds have not completed primary education. Anne Foale rsm, Mercy Works' Coordinator for Overseas Projects says convincing parents to send their children to school, especially pre-school, can sometimes be a challenge. "In remote regions, many parents themselves weren't educated and there are more pressing concerns such as staying home to mind younger siblings while the parents work in the fields. This mentality is gradually changing but there are still too many children not receiving the education they need".
Papua New Guinea
About half of Papua New Guinea's primary school-aged children are out of school; most are kept out by the burden of school fees. Other causes relate to family environment, distance from the school and safety – girls in particular are at risk of rape by gangs as they walk through remote areas to get to school. Of those who do enroll, almost 50% will drop out before Year 6. Nigel Martin, a Year 11 student from Mt Hagen had never been to school as he'd been abandoned by his parents at an early age and was living on the streets. He earned a meagre living by carrying bags at the local market where he'd routinely lift loads of up to 80kgs for no more than AUD 0.20c per bag. One day he heard about Mercy Works and walked into our Mt Hagen-based office asking for help. We enrolled him in the local primary school and supported him along the way. Today he is excelling at school and was recently asked to address the ''National Action Plan to Eliminate Child Labour in Papua New Guinea 2017-2020' stating that if it weren't for Mercy Works supporting him though education, he'd still be living on the streets and potentially going into a life of crime like many of his peers.
Help Us
Mercy Works asks for your support of its appeal to promote education in Timor-Leste and Papua New Guinea to help children like Nigel get into the classroom and stay there. You can donate online or by calling 02 9564 1911 with your credit card details. Every donation makes a difference regardless of size and know that for every $1.00 you donate, a massive $0.94c is spent directly on bettering the lives of the less-fortunate. If you would like to make a donation, click on the link below. You may also like to watch the video below.
Messages to: Maria Rallis
27 April 2017