Archived News Item
Gifts of mercy: show people you care for them and for those in need
June 15, 2011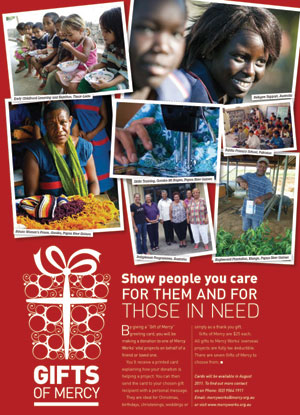 By giving a "Gift of Mercy" greeting card, you will be making a donation to one of Mercy Works' vital projects on behalf of a friend or loved one.
You'll receive a printed card explaining how your donation is helping a project. You can then send the card to your chosen gift recipient with a personal message.
They are ideal for Christmas, birthdays, christenings, weddings or simply as a thank you gift. Gifts of Mercy are $25 each.
All gifts to Mercy Works' overseas projects are fully tax deductible. There are seven Gifts of Mercy to choose from.
Cards will be available in August 2011. To find out more contact us on Phone: (02) 9564 1911, Email: mercyworks@mercy.org.au