Archived News Item
Gifted with the charism of Mercy
December 18, 2007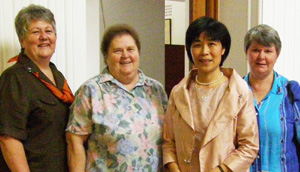 Sister Maria Zhao is the first Chinese-born woman to become a Sister of Mercy of the Parramatta Congregation. Maria celebrated her perpetual profession on December 8 at the Mother Mary Clare Dunphy Memorial Chapel in Parramatta, New South Wales. Sister Margaret Sheppard reports that "the Eucharist incorporated Mercy tradition, Church rites for a Perpetual Profession and traditional Chinese prayer rituals, all of which blended into a rich, joy-filled and moving celebration."
"Maria brings a particular gift with her as she speaks to us of the multicultural nature of our society and the contribution that people of Chinese origin make to it." These words of Sister Ailsa Mackinnon, Congregation Leader of the Sisters of Mercy Parramatta, were addressed to the Sisters of Mercy present, including the members of the Institute Leadership Team, Sisters Nerida Tinkler, Caroline Ryan and Karon Donnellon (pictured above), as well as to the many guests gathered on December 8 in the Mother Mary Clare Dunphy Memorial Chapel, Parramatta, to celebrate the Perpetual Profession of Sister Maria Zhao.
The day was unique as it brought particular historical dimensions to it. The first was that December 8, being the Feast of the Immaculate Conception, was especially chosen as it marked 109 years since the foundation of the Parramatta Congregation of the Sisters of Mercy from Callan in Ireland. The second historical dimension was that this day also marked the Perpetual Profession of the first Chinese-born woman for the Parramatta Congregation, with Maria surrounded by many friends from the Chinese Catholic Communities of Sydney.
With Bishop Kevin Manning, Bishop of the Diocese of Parramatta as the main celebrant, and two friends of Maria, Fathers Martin Low and Paschal Chang as concelebrants, the Eucharist incorporated Mercy tradition, Church rites for a Perpetual Profession and traditional Chinese prayer rituals, all of which blended into a rich, joy-filled and moving celebration.
Sister Ailsa's concluding words of affirmation and encouragement of Maria – "Wherever she goes as a Sister of Mercy, Maria is a sign of God's love and, engaged as a woman of the Church, living the three ideals of contemplation, communion and mission" – also affirmed and encouraged all the Mercy Sisters gathered for this unique multicultural celebration.
From: Sister Margaret Sheppard RSM