Archived News Item
Get active about climate change
October 27, 2008

The Institute's Specific Issues Committee, Eco-Justice encourages all those concerned about climate change and its implications to become involved in two current campaigns which address global warming and the crisis in the Murray-Darling.
Walk Against Warming
Join thousands of families, workplaces and communities in a walk for renewable energy and a safe climate future for our children. With vital decisions being made this year, we will Walk Against Warming to ensure the Australian Government supports strong, urgent action and justice for developing nations affected by global warming.
Walk Against Warming: Saturday November 15 OR in Canberra on Saturday December 6. For State Details follow this link.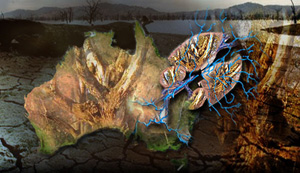 GetUp! Action for Australia Campaign: Buy Me a River
The Murray-Darling Basin is of tremendous value to Australia, economically, socially, culturally and environmentally. It is also Australia's food bowl – and it is literally dying of thirst.
In this campaign, GetUp! asks readers to sign their letter to Penny Wong and State Premiers. Join the Buy Me A River campaign.
ABC Four Corners, "Buying Back the River", October 20, 2008.
From: Specific Issues Committee, Eco-Justice (Sisters Margaret Abbott, Mary Dennett, Kate McGrath and Patricia Powell). The Committee warmly invites your response to the article or the issue.
Email: eco.justice@mercy.org.au

Contact: Carmel Heagerty RSM, Institute Justice Co-ordinator
Email: Institute.Justice@mercy.org.au