Archived News Item
From Humble Beginnings, Mercy Services Grows
August 29, 2018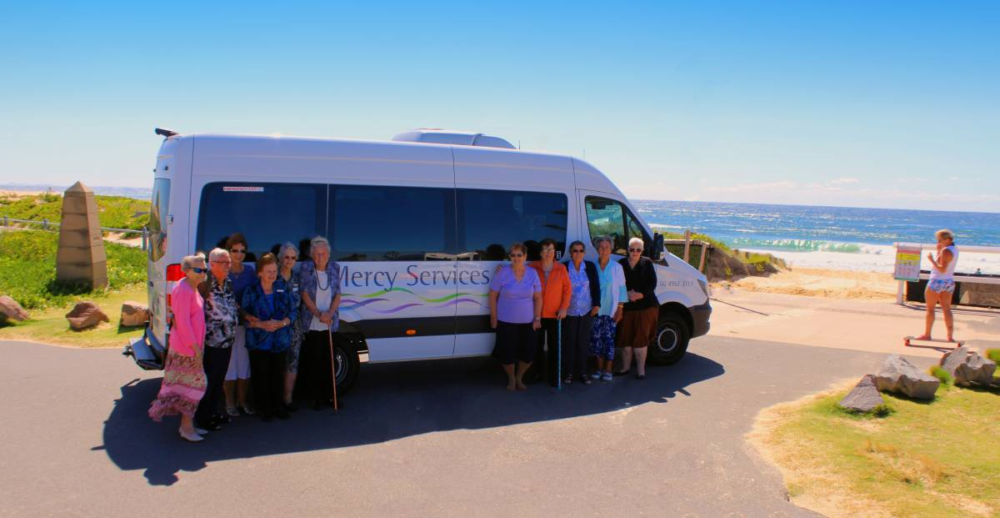 Mercy Services relies on a staff of 330, with 100 of those people being volunteers.  It assists over 1,000 people, all based out of the Hunter Valley, NSW. It provides a range of services, but at its core, is to care for the vulnerable.
Mercy Services was started in 1976 by Berice Livermore RSM out of the back of her station wagon.  Sr Berice identified that there was a desperate need in Newcastle and surrounds for community outreach including visiting the sick, the lonely and the vulnerable in their homes.  This service then grew and grew to become the well-respected organisation it is today.
Even though Mercy Services is larger than Sr Berice imagined it would be, it still retains its core values of continuing the work of Catherine McAuley and caring for the vulnerable, whether they be elderly or people with disabilities.  Mercy Services is here to help.
Since Sr Berice established Mercy Services, the industry has seen some significant changes.  The Commonwealth and State Governments have become more involved which has meant stricter rules and reporting.  Over the last two decades smaller community organisations that also provided assistance to the community faced a future that was becoming tougher to meet the requirements of the Government.  Rather than close their doors, these organisations merged with Mercy Services to continue to deliver an essential service across the Hunter Valley.  These organisations included:
West Lake Carers
West Lake Carers Transport
Woodrising Meals Program
North Lakes Carers
Newcastle Community Transport
Wallsend Carers
Elermore Vale Social Support
Newcastle Elderly Citizens Centre
Some of the staff involved in these organisations still work or volunteer with Mercy Services today.  Mercy Services is truly an organisation that has grown from the community by the community.  Mercy Services has very strong roots in the local community and maintains that link even now.
Mercy Services offers a range of services to its clients, including:
Tighes Hill Day Centre
West Wallsend Day Centre
Newcastle Elderly Citizens Centre
Community Transport
Home and Community Care
Alcohol and Drug Rehabilitation
Residential Aged Care
In-Home Support
Mercy Services Chief Executive Officer, Tony Bidstrup says, "on paper you can't imagine how this mix of services would work.  But because of our dedicated and committed staff and volunteers, it not only works, it thrives."
All these services provide a safe environment for the vulnerable to either get connected with the community again, or to stay connected.
The Day Centres provide activities, entertainment, a place for learning and a place to stay active.  They encourage people to come together to engage with others and to enjoy themselves in a welcoming and safe environment.
Community Transport is, more often than not, the first contact new clients have with Mercy Services.  When people need assistance getting around town, the Community Transport Service provides that helping hand.  They have a range of transport solutions including a wheelchair friendly bus that can take clients on group shopping trips and group social outings.  Individual services are also available to enable clients to visit loved ones in hospital or to attend medical appointments.
The Home and Community Care services currently has approximately 160 home care packages.  This services allows people to stay in their home longer, by providing a helping hand such as cleaning, attending appointments and high level personal care.
The Drug and Alcohol Rehabilitation program has been running for over 20 years.  It provides individual support for parents with children under 12 years of age.  This service also has two Transition Houses:  Brighton, for men; and Bronte, for women.  These houses provide the structure people need to stay off substances and to transition back into society.
The Singleton Residential Aged Care facility is a 44 bed facility providing quality accommodation, meals and support for the aged.  This facility is in high demand and is proud of the fact that it has modified its services over the years to accommodate the changing needs of society. It is a lovely place to call home.
The In Home Support Service provides assistance to people with disabilities. However, Mercy Services don't like to categorise people too much, instead, they care for the vulnerable.
Many other organisations in this industry seem to focus on the dollar, they are driven by their profit.  However, Mercy Services instead focuses on providing exceptional care.  It is an important and essential trait in Mercy Services that staff and volunteers connect with the person and follow Catherine McAuley's lead.
Catherine said, "There is nothing of greater importance than the perfect discharge of our ordinary duties".  Tony Bidstrup believes that this is what makes Mercy Services different to all the other providers.
"Our staff and volunteers are exceptional," said Tony.  "They have the ability to show compassion when needed and to connect with the individual to ensure their ordinary duties become exceptional service."
If you would like to know more about Mercy Services and the role it plays in the Institute of Sisters of Mercy Australia and Papua New Guinea, please contact the office on 02 4961 2686 or visit  www.mercyservices.org.au.