Archived News Item
Fraynework wins medals at international competition
May 10, 2007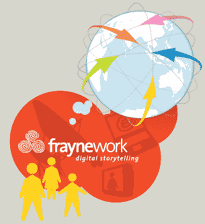 Congratulations to Fraynework Multimedia who received gold and bronze medals at an international interactive media awards competition recently.
The Horizon Interactive Awards, a prestigious international competition recognising outstanding achievement among interactive media producers, announced its 2007 winners recently. This year's competition saw nearly 1000 entries from 24 countries.
Fraynework, a ministry of the Melbourne Sisters of Mercy. won four medals in total, one gold and three bronze. The results are as follows:
The Mission of Mercy in Health and Aged Care won gold in the video-short film category.
A Mercy Story in PNG won bronze in the video-documentary category.
Mercy E-news won bronze in the magazine-news category.
Circle of Mercy (Song and DVD) won bronze in the self promotion-company identity category.
"We are delighted at the public recognition these Mercy projects have received and which we have the pleasure of producing across the Mercy world. They tell important stories about people trying to make a difference in others' lives. The Horizon Awards draw attention not just to the quality of the work but to the values of compassion and justice these stories hold," said Fraynework's Manager, Anne Walsh.
For more information about the awards visit Horizon's website.