Archived News Item
Fraynework shines nationally and globally
October 31, 2010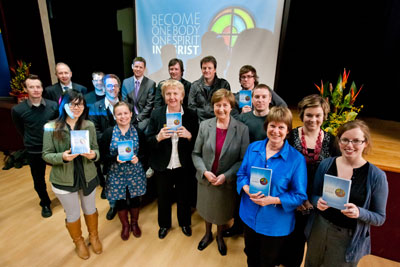 Congratulations to Adele Howard RSM and the team at Fraynework Multimedia, a ministry of the Sisters of Mercy, who have been responsible for a number of high-profile multimedia projects recently, including the live webcast of Mary MacKillop's canonisation ceremony last weekend (Sunday October 17).
Anne Walsh, Fraynework's Director of Client Services, says the team at Fraynework have worked closely with the Sisters of St Joseph on various projects for the canonisation of Australia's first saint, such as the development of a website dedicated to Mary MacKillop www.marymackillop.org.au and the design of banners which adorn streets in the City of Sydney.
According to Anne, the live webcast of Mary MacKillop's canonisation allowed many people to be part of the event who would otherwise not have been able to.
"The Sisters of St Joseph believe the use of the web in covering Mary MacKillop's canonisation ensures that everyone is given the opportunity to access the celebrations regardless of where they live," she explains.
Anne retells the story of a group of Josephite Associates in Lima, Peru, who, without an internet connection in their homes, travelled to be with the Sisters of St Joseph in El Pacificoto to watch the live webcast of the canonisation. (Read the story "Peru: connected from Rome to home by webcast")
For those who missed the canonisation ceremony, the webcast, with access instructions and commentary provided by Josephite Sister Giovanni Farquer and Father Mark Podesta, can be viewed online at www.marymackillop.org.au
At the request of the International Commission for English in the Liturgy (ICEL), Fraynework has also developed a new catechetical and liturgical resource "Become One Body, One Spirit in Christ" to assist with the international implementation of the new English Translation of the Roman Missal.
Launched in Melbourne on September 30 by Archbishop Philip Wilson, President of the Australian Catholic Bishops Conference, the resource also includes an interactive DVD.
At the launch Adele Howard RSM, a driving force behind the DVD and responsible for filming segments in many countries, gave a step-by-step introduction to the resource, showing the interactive nature of the content which uses a remarkable breadth of multimedia to explain the liturgical norms which will gradually be adopted by Catholics in the English speaking world.
The DVD "Become One Body, One Spirit in Christ" can be purchased from Fraynework Multimedia for $32.95 ($35.00 posted anywhere in Australia). Also visit the "Become One Body, One Spirit in Christ" website.