Archived News Item
Fourteen jubilarians for Goulburn
April 2, 2008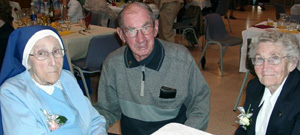 There was great rejoicing at Mt St Joseph's Chapel in Young on March 29 as 14 sisters celebrated their jubilees of religious profession with members of the Goulburn Congregation. Among those celebrating was Sister Madeleine Lawrence (pictured left with Father Father Geoff Lloyd and Sister Christopher Ryan). At 105 years, Sister Madeleine is not only the oldest Sister of Mercy living in Australia, but also the longest professed.
The 14 Sisters of Mercy celebrating their jubilees included:
Sister Madeleine Lawrence (85 years professed)
Sisters Lucy Madden, Scholastica Page and Christopher Ryan (60 years professed)
Sisters June Cassidy, Clare Flinn, Carmel Gardiner and Gabriel Sheahan, who was unable to attend due to ill health (50 years professed)
Sisters Mary Corkeron, Lorraine Cupitt, Frances Fitzpatrick, Helen Kearins, Kate McMahon and Margaret Schmetzer (40 years professed).
The celebrations commenced with Eucharist concelebrated by Fathers Richard Thompson, Parish Priest of Young, and Geoff Lloyd.
Sister Marie Duffy, Congregation Leader, spoke of the manner in which each sister had been a faithful witness to the Mercy charism, as expressive of the ministry of Jesus Christ. She also described how each had touched and challenged the lives of countless women and men through their respective ministries.
During the liturgy, each of the jubilarians renewed their vows.
At the conclusion of the Eucharistic celebration, Father Richard presented Sister Madeleine Lawrence with a Papal Blessing. As well as being the oldest Sister of Mercy living in Australia, at the age of 105, Sister Madeleine, is also the longest professed Australian Sister of Mercy.
During lunch at Catherine McAuley Hall in Young, the joyful celebrations continued over lunch with reflections shared about each jubilarian.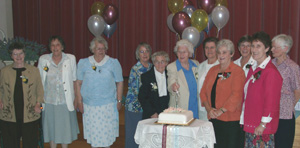 Some of the jubilarians cutting the jubilee cake, pictured from left to right, Sisters Carmel Gardiner, June Cassidy, Clare Flinn, Margaret Schmetzer, Christopher Ryan, Scholastica Page, Mary Corkeron, Helen Kearins, Kate McMahon, Lorraine Cupitt and Frances Fitzpatrick.
Messages to: Sister Shirley Garland RSM (Local Communications Facilitator, Goulburn)