Archived News Item
Four Queensland Mercy Congregations gather at "The Haven"
October 24, 2007
The leadership teams of Queensland's four Mercy Congregations – Cairns, Townsville, Rockhampton and Brisbane – gathered at "The Haven" in Emu Park on the central Queensland coast from October 5-7. The gathering also included two sisters from the new Papua New Guinea Leadership Team, Sister Nerida Tinkler, from the Institute Leadership Team, and Sister Margaret Endicott, as facilitator. Sister Elizabeth O'Keefe (Local Communications Facilitator, Brisbane) reports.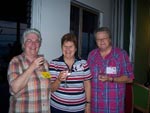 The weekend of October 5-7 saw the Leadership Teams of the four Queensland Congregations (Cairns, Townsville, Rockhampton and Brisbane), two Sisters from the new PNG Leadership Team and Sister Nerida Tinkler from the Institute Leadership Team meeting at "The Haven", Emu Park on the coast of Central Queensland, with Sister Margaret Endicott as our facilitator.
While enjoying each others company, the hospitality of the Sisters of St Joseph and the most beautiful setting, we did manage to do some work.
Sister Mary Lowcock, a Townsville Mercy and Director of the Catholic Mission Office for the Brisbane Archdiocese, spoke to us on Mystery Mission Mercy. Nerida also shared with us the journey that we the Institute have taken in reconfiguring since the Institute Chapter in 2004 to this time. This helped to give perspective to the current decisions that have to be made.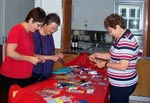 Our lives are often busy with business tasks that have to be done so it was good to take the time to look at the deeper meaning of what we do and reflect with the other Mercy groups. Since we last met together three of the congregations have had elections for new Leadership Teams. Thus this was a good opportunity for the current leaders to meet.
In catching up with each other we became more aware of the issues that are of importance to each of the groups. We came away from the weekend having made good connections with each other as well as contributing to the local economy of Yeppoon.
A special thanks must go to the Rockhampton Sisters for all the behind the scenes work that made it such a successful and enjoyable weekend.
From: Sister Elizabeth O'Keefe RSM (Local Communications Facilitator, Brisbane)