Archived News Item
Founding principal of Mercedes College Adelaide dies
February 15, 2007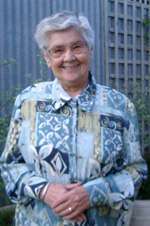 The founding principal of Mercedes College in Adelaide, Sister Mavis McBride RSM (Sister Philip), pictured, died on January 22, aged 83. At her funeral on February 1, celebrated in St John the Baptist Church Plympton, Sister Mavis was remembered with great affection by her Mercy sisters, relatives, friends, old scholars and fellow teachers. What follows is the eulogy given by Sister Barbara Broad at Sister Mavis' funeral.
"Serve the Lord with Joy": Eulogy given by Sister Barbara Broad at the funeral of Sister Mavis McBride (Adelaide)
Last night as I listened to the different stories of times shared with Mavis – stories from family members, stories from past students, stories from her sisters in Mercy and indeed stories from an array of people, all wishing to acknowledge her significance to them – I realised that it is difficult to express adequately the richness of who Mavis was. My words this morning are an attempt to speak to aspects of her life as a much loved Sister of Mercy.
On January 26, 1945 Mavis professed her vows as a Sister of Mercy, taking as her motto "Serve the Lord with Joy" and it was in this spirit that she lived.
The evening she died I picked up the book of Psalms which was beside her bed, brown with age and from use. Looking through it, I noticed she had underlined different verses from the psalms and added her own annotations. This little book has assisted me in preparing this reflection on her life. Let me share just one of the verses she highlighted – Psalm 100 v2 – "Worship the Lord gladly and come before him with joyful song" is heavily underlined, and alongside it, in her handwriting, is written "Serve the Lord with Joy". Indeed, as a Sister of Mercy, Mavis did just that; she served with deep joy. Mavis cherished the various ministries she engaged in throughout her life and treasured the network of friendships that flowed from these ministries. Many here today are part of her network and know that she had a special place in her heart for you as you have had for her.
Mavis joined the Sisters of Mercy as a postulant in 1942 and on becoming a Novice on January 26, 1943 she took the name Sister Mary Philip. In light of her motto, I think, it is significant to note in John's Gospel that when Philip was called by Jesus to be one of his disciples, he was eager to go and see where Jesus lived (1:46). It was with similar eagerness and joy that Mavis committed her life to following the God who called her by name.
In 1945, the newly professed Mavis began her ministry as a teacher, a ministry which was to span over four decades. Initially she taught at St Aloysius College, teaching a range of subjects in the secondary curriculum, while specialising in the area of Mathematics and Science. Marita remembers well the small Leaving Maths 2 class with Mavis, as the teacher, whose look and eyes could control even her! On one occasion Marita prided herself on being the only one able to solve a particular trigonometry problem, it had even had Mavis stumped. Recalling this in recent times, Mavis revealed to her that she was often only one step ahead of her students at that time. In these early years as well as teaching full-time, Mavis was studying for her Bachelor of Arts Degree at the University of Adelaide – this she successfully attained in 1947.
In 1954, Mavis, together with ten other sisters, went to live at Springfield to establish Mercedes College. Several of their number ran the house and looked after the housekeeping needs of the boarders and the sisters looked while the others were teaching full-time and taking their turn supervising the boarders out of school hours.
The "Springfield eleven" as they were called were joined by Father James Gleeson as the resident chaplain to Mercedes. He soon became the Director of Catholic Education and later Archbishop of Adelaide. As the founding principal, Mavis particularly valued his support as the new college was being established; he often doubled as a carpenter or plumber. This was the beginning of their life-long friendship.
During the forty years celebration of Mercedes in 1994, speaking to the College Council, Mavis referred to the beginnings days in terms of a new and unknown adventure, saying: "There was a lot of joy in being part of this adventure, very simple basic joy. No televisions for instance, but cement mixers, timber and prime-movers all around us!" The School Inspectors' Report in November 1954 noted there were 143 students on the roll and commented that: "Sr Mary Philip supported by an able staff, has done well to bring the work to such an advanced stage in so short a time." Romley, or Sister Mary Vianney as many of you may know her, only the other day spoke of the good times they shared in those early days at Mercedes. She remembered how, after a days teaching, Mavis would go to the office and be confronted by all the paper work of administration and how from time to time she would join her in the office and do the filing for her.
In her seven years as principal, Mavis sewed the seeds of the Mercy spirit which characterises the school today, as well as the seeds of sound educational practice, seeds which successive principals together with their staff members have built on. Today, Mercedes is one of the finest education institutions in the State. It is a tribute to Mavis' legacy that there are a number of representatives of the school community here today, joining with us in this celebration of her life.
Mavis maintained her links with the Mercedes although never wishing to be seen as the "former principal", rather, she chose ways where she could contribute in a way that did not interfere with the administration. She assisted with the LAP programme and worked closely with Suzanne Moorehead in preparing for the fifty years celebration of Mercedes in 2004, and with Anne Cox and Joan Warren in the College Archives. Although she experienced ill health, she was constantly present at the Mercedes Jubilee Celebrations throughout 2004.
She was a great support and friend to many connected with the College right up until she died. Shirley Smith, in an email to me just after Mavis died said: "We, girls in the administration, all felt very privileged to be in the company of such a loving and genuine lady. She always took a close interest in our families and seemed to know when we needed a few kind words of wisdom. We enjoyed many a festive time over lunch during school holidays and it is fair to say, that she changed all of our lives for the better and will be sadly missed."
As well as teaching at SAC and Mercedes, she also taught at St Anthony's School Millicent, Mater Christi College and later Tension College Mt Gambier and Rosary High School, Kondiu Papua New Guinea.
Last year, at some stage, when Mavis and I had been on one of our many trips to sit at the beach, and I was driving her home to Netley, out of nowhere she said: "don't forget to mention my great love for the old scholars at my funeral". When I asked her to say a bit more about whom in particular she was referring to, she simply said: "all the students I have ever taught." Many here today, I am sure, fall into the category of "Mavis' old scholars" – be assured you had a special place in her heart right up until she died.
In the mid 50s the Sisters of Mercy first went to PNG and it was Mavis' deep desire to be part of this mission, however, the superiors at the time felt she was needed here in South Australia as she was the main Maths and Science teacher in the congregation. However, when Mavis finished teaching at Mt Gambier and after some sabbatical time, she saw this as her opportunity to finally go to Papua New Guinea, and so in 1980 she went to teach at Rosary High School in Kondiu.
Although she suffered intensely from arthritis, Tess recalls that, Mavis seldom took a break from teaching. She found the students in Papua New Guinea a delight to teach, as they seemed so keen and unspoiled. Her role at the school included preparing the young national teachers to take over responsibility for English, Religious Education, Maths and Agricultural Science at the school.
After two years, Mavis was transferred to Goroka in the important role of Secretary to the Commission of Bishops and Religious in the country. In this capacity she organised the translation of religious books into "controlled" English and then had them published. The Bishops considered this work to be a most important contribution to the growth of the local church. Her role also included conducting correspondence courses in Scripture for tertiary students, some of whom were lay people, though the majority were Papua New Guinean religious brothers and sisters. It gave her much satisfaction knowing that some of these books were sent to Africa.
Mavis enjoyed this ministry and the experience of living among the ecumenical staff of the Melanesian Institute at that time, together with Mercy Sisters, Romley, Helen O'Brien and Wendy Flannery. She worked from the Diocesan Office complex and here was assisted by a young Simbu typist, Josephine Druagle. Mavis delighted as she witnessed Josephine's confidence and competence in secretarial skills developing during this time. She made firm friendships among the missionaries – religious and lay – and kept faithful to these after she returned to Adelaide at the end of 1984.
While teaching was the major thrust of Mavis' ministry, she also spent time working at Catherine House, at the Indo-Chinese Women's Association, as a pastoral care worker and a school counsellor at Kilmara School, and as a volunteer phone counsellor for Life Line. As part of the congregation Chapter in 2004, a small book titled Singers and Song was compiled, in which each sister offered some reflection on her life and ministry at the time. On her experience of being a mercy woman today she said:
§ "it is taking thirty minutes instead of four, to come home from Mass each day as I chat to people sitting outside waiting for someone to chat to them;
§ sisiting people in the Southern Cross Hostel, Nursing Home and Units;
§ keeping in touch with friends and family member (five generations, still increasing);
§ playing cards, an occasional trip away, reading, music, TV;
§ prayer;
§ domestic chores;
§ sitting and praying with the sick and dying;
§ connections with Mercedes through the archives and various celebrations;
§ contact with old scholars;
§ waiting".
Mavis had a great love of the Australian landscape and was able to see all the little signs of beauty in nature – no wonder that she was a good science teacher. Growing up at Cobdogla she had a special love for the Murray River. Now that she has died I can tell you about her dream to have a holiday on the River, a cruise on a houseboat – she had asked me not to tell anyone about it because they might try and stop her or suggest that it wasn't a good thing for her to do, knowing how frail she had become in the last twelve months. I really don't know whether or not she had made a tentative booking for the cruise but I did notice on the bedside table in her room at Netley one of those little books put out by Tourism SA "SA Shorts". I guess she has already fulfilled that dream! Mavis always attempted to live life to the fullest and certainly didn't want to let the dust to settle under her feet, as the saying goes.
Mavis was a woman of deep prayer – on the chair in her room – the day she broke her hip was opened her Bible – it seems she was about to pray or had just spent time in prayer with the Scriptures. Her deep and personal prayer life and the spirit in which she lived is, I think, best summed up in a prayer she wrote in a little note book that was in her room. She modelled her prayer on the Suscipe of Catherine McAuley, which we will sing during the Presentation of the Gifts at this Eucharist – and while Mavis was in many senses a very private woman, and possibly never shared this prayer with anyone, I trust she will not mind me sharing this with you, as she now enjoys "Eternal Joy":
Loving Father, Mother, and most trusted friend
We belong to each other, and so I am yours, and you are mine.
Forever, of course!
Help me to watch the now.
Make me submerge myself in your loving providence
In those arms so warm, protective, possessive.
Receive me just as I am.
Ours is no creep-mouse affair.
In you I love, I trust, I do.
I see you suffering my sorrows, bearing them with me.
And I confidently demand, on my part, pardon and understanding from you, who lived and died for me.
Everything that happens in my life I now embrace, accept uncomplainingly and even cherish.
I am sorry, and ask pardon, for all sin, mine and others.
All I want is you, my delight.
What else is permanent and good?
Who else is totally loving and forgiving?
I long for eternal joy and fulfillment with you, my dear Abba.
Farewell Mavis, thank you for the blessing you have been to me and to each of us, your sisters, your Mercy family – "eternal joy" is yours at last!
From: Sister Bernadette Marks RSM (Local Communications Facilitator, Adelaide)
Email: bjmarks@senet.com.au