Archived News Item
FOR THOSE WHO HAVE COME ACROSS THE SEAS
October 19, 2015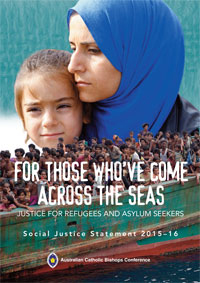 The 2015-2016 Australian Catholic Bishops Conference (ACBC) Social Justice Statement 'FOR THOSE WHO'VE COME ACROSS THE SEAS' speaks strongly to the issue of justice for refugees and asylum seekers.
Mercy sister Sr Helen Kearins rsm from N.S.W. is a Research & Projects officer with the Australian Catholic Social Justice Council (ACSJC) and contributed to associated resources for the Statement.
The statement provides much valuable information about this issue. Chairman of the Australian Catholic Social Justice Council, Vincent Long Van Nguyen DD says: 'The statement was developed in response to the longstanding divisions in Australian society over asylum seekers…[and] with the increasing global movement of peoples and our nation's fearful response, it is timely for us to reflect on this important issue of the day'.
The Statement is a superbly prepared document that contains many thought provoking and emotive information and photographs. An inspiring quote contained within the statement, is from the Pope's representatives, the Apostolic Nuncios in the Middle East:
One cannot be silent, nor the international community remain inactive, in the face of the massacre of persons merely because of their religion or ethnicity, in the face of decapitations and crucifixions of human beings in public squares in the face of the exodus of thousands of persons and the destruction of places of worship.
The ACSJC website http://www.socialjustice.catholic.org.au contains the following associated materials on the Statement:
Liturgy Notes, Community Education Resource, Ten Steps, Prayer card, PowerPoint presentation, Video and YouTube presentations.
The full Statement can be read HERE