Archived News Item
Focusing on Justice and Reconciliation
May 27, 2014
On the 29th and 30th of March, young people from around the Diocese of Port Pirie gathered for the first Youth Assembly since 2002. It was named the 'Justice League of the Diocese', taking inspiration from the diocesan focus for the year on justice and reconciliation, and the youth 'take' of superheroes. For the 4 subthemes of the adults' Assembly, the Youth Assembly had matching heroes: Superman with the power of Welcoming, Wonder Woman with the power of Healing, Doctor Light with the power of Reconciling and Spiderman with the power of Advocating. The participants heard from Aloysius Mowe, the director of Jesuit Refugee Services, who challenged them to see Jesus in "the least of these" and to find their own superpowers. They then were split into four groups to pursue issues of justice/reconciliation in more depth. For the areas of Aboriginal Reconciliation, Asylum Seekers and Refugees, Animals and the Environment and Homelessness, the participants learned first hand stories and facts, and participated in service, artistic or awareness-raising activities. In the evening they were treated to a clowning workshop where they found freedom and joy, enacting gospel stories and bonding together. Times for prayer, reflection, games and action-planning were capped off by a final Mass on the Sunday, with each participant taking an active role.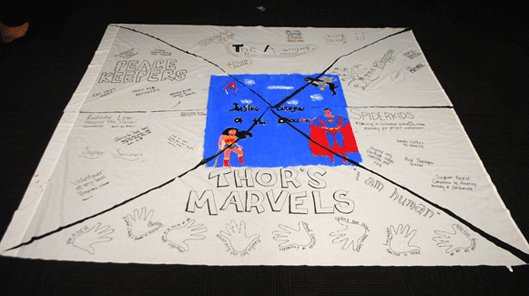 Elizabeth Young RSM is the Coordinator for Youth and Young Adult Ministry in the rural diocese of Port Pirie, South Australia.
Messages to: Elizabeth Young rsm
Photos:
Top: Hard at work.
Bottom: The theme of the Assembly surrounded by the justice and reconciliation actions to be taken by the participants.