Archived News Item
Flying the Mercy Flag
May 25, 2014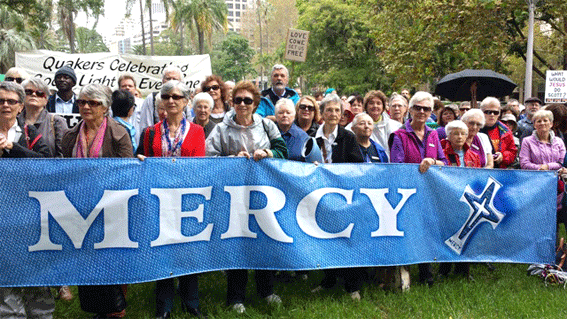 The ever deteriorating plight of Asylum Seekers in Australia was on the minds of Central B community sisters in Sydney at our March monthly prayer and reflection meeting. We have seen media reports covering some aspects of detention centre disturbances, and of people off loaded and turned back to Indonesia. Some of the sisters have shared with us their direct experience of the situation of Asylum Seekers, through time they spent at Curtin Detention Centre; weekly visiting at Villawood Detention Centre; support work at Jesuit Refugee Services and other centres. Many sisters have responded to requests for donations of bedding and other necessities for those moving into the community with very limited resources. No doubt there are similar experiences and responses across our Mercy scene.
We did not need convincing of the growing injustice of the treatment being meted out to Asylum Seekers by the government, though we may not have understood the details. The niggling question for many of us was "So What ? What can we do about it?" There were suggestions; about writing to politicians; attending the forthcoming Palm Sunday rally. There were prayer campaigns. Someone agreed to arrange guidelines for letter writing. Someone else was challenged to see if there was a Mercy banner that we could use if we attended the rally as a group.
Fast forward a week or so –
We were at another gathering, this time with Mercy sisters and lay staff from the three congregations in Sydney at a presentation "Living Mercy- Shaping Tomorrow's Future" by Mary Reynolds, Director of Mercy International Centre. In her first presentation, Mary looked at "Catherine McAuley and the Ministry of Mercy". To help us understand more profoundly what Catherine did she began by placing her in the context of her time She pointed out that in the Ireland of Catherine's day, most Catholics lived lives of severe poverty and hardship; dispossessed of their land; restricted from education and the practice of their faith. In Dublin many found themselves without employment, often without shelter and adequate food. They faced the ravages of famine and disease. Women and children were particularly vulnerable. The authorities had in place oppressive laws that kept the people as an uneducated and powerless underclass. There was an emerging Catholic middle class, but they were anxious to maintain their own privileges. They were not keen to draw attention to the injustices; they distanced themselves from the poor and were not in favour of taxes going to poor relief. Were we hearing, in the context of our time, any parallels in our comfortable scene and the situation of Asylum Seekers?
Mary went on to remind us of Catherine's life experience, that included her own hardship and dependence on others and of her contact and engagement with the poor servants and those in her neighbourhood. In seeing their situation and listening to them she was moved to compassion, she developed a love and admiration for them and was inspired to seek out ways to help them overcome their adversities.

We are well aware of Catherine's response, the works of Mercy that she set in train in Dublin, across Ireland, and beyond. Mary pointed out that with her programme of Mercy she broke through the impossibilities of her day and impregnable barriers of indifference and discrimination. "What distinguished Catherine from other philanthropists of her day was her ability to imagine life differently." For those on the margins she envisioned a society where they would be empowered to take their places within that society, enjoy the rights of citizens and become active participants rather than passive victims of exclusion. She sought to be a bridge between the rich and the poor, using her background and connections with people of influence to relieve the needs of the poor people and assist their advancement with education, skills and employment. She empowered people to become agents of their own advancement and liberation.
Mary asked us to reflect on Catherine, and to ask ourselves, as her followers in Mercy: "What are the impossibilities of our time and what responses can we offer?" In the discussion group I was part of, the situation of Asylum Seekers was readily named as an "impossibility of our time" calling out for a Mercy(ful) response. We thought about the position of influence we have as individuals, and as a group, and how we could use this to advocate for Asylum Seekers. We shared information about the forthcoming Palm Sunday Rally. There was widespread interest in advertising and supporting it as a group. Decisions were made to design and procure a joint Mercy banner for the three congregations, symbolic of the public voice of Mercy in support of Asylum Seekers.
Fast forward two weeks – and so to the rally !
Over forty Mercies were there, along with associates and former students of Mercy. The banner had arrived the day before the rally. It proved to be a good focal point, and appeared in various TV bulletins and newspaper reports.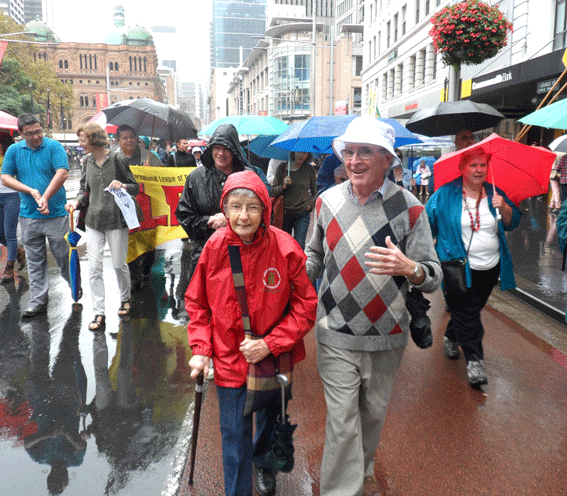 Keynote speaker Phil Glendenning, president of Refugee Council of Australia, outlined the legal, moral and practical obligations that Australia took on in becoming a signatory to the Refugee Convention back in 1954, and the basic underlying principle of Human dignity. With clarity and passion he highlighted the way in which the policies of the current government deny the human dignity and rights of Asylum Seekers, and ignore the obligations we signed up to. The approach of turning back boats, locking people, including children in detention centres and refusing to process claims for asylum as well as shipping them offshore to impoverished countries like Nauru and Manus Island are unjust laws and against the Refugee Convention.
Refugee speakers from Iraq and Afgahanistan and Sr Susan Connolloy, rsj brought us into the experience of Asylum Seekers and highlighted the impact of fear of death, separation from family and the mental anguish of long periods of detention without prospects of having their claims for Asylum heard by the Immigration authorities. The MC for the occasion was Robyn de Crespigney, author of the book "The People Smuggler". Books such as this are another way of opening up for us the world of people who are refugees and Asylum Seekers. The rain came down as the speeches got underway and the rest of the event was wet and uncomfortable. Just being there was taking us out of our comfort zone.

In wrapping up the speeches Robyn commented on the large numbers who had gathered and the encouragement this offered for Asylum seekers and for each other. But she noted that we were representative of only twenty percent of the Australian population who are aware of and sympathetic to the plight of Asylum Seekers and refugees. The large majority are unaware, indifferent, even hostile.
So what does that mean for us?
It means building up awareness of the facts for ourselves, sharing with others in a way that is clear but not confrontational. Websites like the Refugee Council of Australia are constantly updating information and suggesting gatherings and resources.The speakers challenged us to speak up, and stand up for the rights of Asylum Seekers. The rally may be over, but the need for ongoing action grows daily.
Messages to: Daphne McKeough
Photos:
Top L-R: (Starting fourth from left) Eileen Quade, Kate McCarthy, Daphne McKeough, Marlene Fitzgibbons, Noni Ball, Rhonda Bast, Christina Aitkin, Yvonne Channells, Celestine Pooley, Pat Adams, Joan Doyle, Cathy Corbett, Sally Bradley.
Bottom: Age is no deterrent! Long term Mercy "Justice warrior" Celestine Pooley and friend marching.