Archived News Item
First Profession (Namba Wan Tok Promis )
December 12, 2013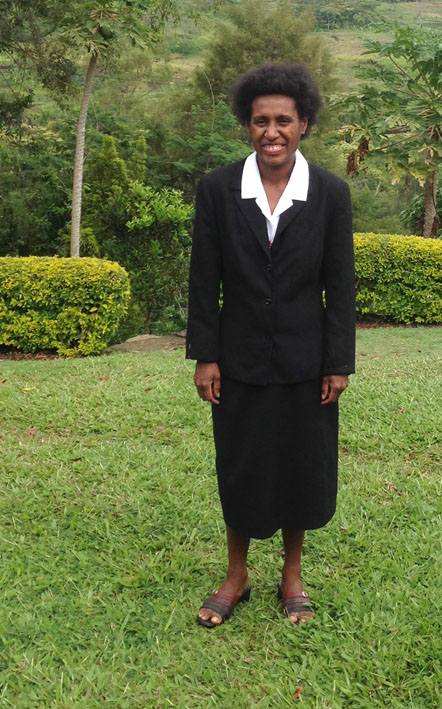 "Mi makim yu bilong mi yet" (I have called you by your name, you are mine -Isaiah 43:1c) was the theme chosen for the gathering for the first Religious Profession of Vows of Sr Janet Andrew rsm at St Mary's Parish Church, Goroka, on Friday 29th November 2013. It was a most joyous occasion, enhanced by the music of a keyboard, guitars, kundus (hand drums), by song and dance, and by colourful decorations in the form of lavish arrangements of flowers, fruit and balloons.
Twenty Sisters of Mercy from the Institute's Northern, Central B, Central A and South B Communities were present to give thanks with Janet on this significant step in her journey with and in God. The Church rang with the music provided by the people from Janet's Parish of North Goroka, most of whom were wearing traditional dress, and who offered thanksgiving to God in the Entrance, Gospel and Offertory processions. Janet's Sepik heritage was celebrated in the Gospel procession (Procesio long Welkam Gutnius) by a group of young men who, with ceremonial paddles and welcome song and dance, steered the Book of the Gospels up the 'river aisle' of St Mary's Church.
The Mass and Profession Ritual were conducted in Tok Pisin, including speeches by Sr Berneice Loch, Institute Leader, and Sr Beverley Strong, Northern Community Leader. Three local Priests concelebrated the Mass: Fr Valentine (Vicar General), Fr Ziggi (Parish Priest St Mary's) and Fr Bogden (Parish Priest North Goroka).
It was a moving moment when Janet's Papa, Mama, two sisters and brother, and her extended family, stood with her as she was called forth by Sr Berneice to stand in the sight of the People of God and to request to make her Vows to God. After Janet had made her request, the Celebrant addressed her family: "You heard Janet ask to make her Vows to God within the Institute of Sisters of Mercy of Australia and Papua New Guinea. Are you happy about this?" Upon the family's response: "Yes, we are happy", Janet took her place for the remainder of the ceremony with the Sisters.
Pope Francis' very recent Apostolic Exhortation on the Proclamation of the Gospel in Today's World was the basis for the homily during the Mass. The theme was "Amamas Bilong Gutnius", or "The Joy of the Gospel". Pope Francis invites "all Christians, everywhere, at this very moment, to a renewed personal encounter with Jesus Christ…." and reminds us that "The joy of the Gospel fills the hearts and lives of all who encounter Jesus… … an evangeliser must never look like someone who has just come back from a funeral." We were reminded that the Reign of God is present among us when we all are faithful to our promises: Baptism, Confirmation, Marriage, Religious Vows. All present were asked to continue to support Janet, especially through prayer, as she seeks to live out her promises as a Sister of Mercy.
There was much joy after Janet proclaimed her Vows and Sr Berneice presented her with the symbols of profession, the Constitutions of the Institute of Sisters of Mercy of Australia and Papua New Guinea and the Mercy Cross. Janet was warmly welcomed, congratulated and embraced by each of the Sisters present, and by her family.
Janet graciously extended her thanks to all present, and for the many hands which had made this gathering so special. She invited everyone to "liklik kaikai" in the Parish Hall after the Mass, and this proved to be an extension to the happy gathering, where Janet shared a little of her story which led her on her way to becoming a Sister of Mercy. A delicious cake was enjoyed by everyone.
All in all, this was a day which shone with the Joy of the Gospel, reflected by so many happy shining faces. We rejoice with you, dear Janet, and give thanks for the gift of you.
Helen Baguley rsm