Archived News Item
Federal intervention in the Northern Territory
November 22, 2007
This fortnight's contribution from the Institute's Specific Issues Committee on Indigenous Concerns challenges readers to reflect on the situation of Indigenous people, especially in regard to the Government intervention in the Northern Territory. Readers are invited to read the insights of some people on the ground in the Northern Territory and to take time to reflect on this important issue.
Government Intervention in Aboriginal Communities in the Northern Territory
In a July 6 media statement Bishop Ted Collins, the then Bishop of Darwin noted that the report of the recent Northern Territory Inquiry shows that Indigenous people want to and are committed to responding to the issue of child abuse and that the participation of Indigenous people in shaping and implementing solutions is vital to achieving success.
Bishop Collins went on to say, "Our approach is to work in partnership with Indigenous people in their local communities. Without their involvement, without their voice, it can easily happen that Aboriginal people, many of whom already feel powerless, end up further disempowered. Yet when we work in partnership with them, Indigenous people know that we recognise and respect that they take first place in dealing with the problems that affect their own lives and their families and communities."
Jayne Lloyd, the Director of Centacare Northern Territory, reflecting on the issues arising from the intervention, wrote in a November Newsletter for staff, "My hope is, as we journey with our clients and communities during this time, that rather than be consumed by what we can't do, that we continue to strive to make a difference, strive to listen and communicate clearly and that we always walk in a spirit of partnership with those we seek to serve."
ACTION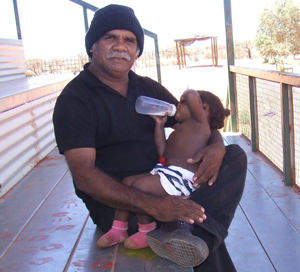 Further Reading:
The Indigenous Concerns Committee urge you to take time to read the following resources.
Prayers:
Pray for the Indigenous people caught in this "intervention".
A Dreaming Prayer
Creator Spirit,
you created all things, seen and unseen,
listen to our silent prayer as we stand here before you.
Our weary eyes look back over distant horizons, back to those days where our people walked.
The footprints of our ancestors are imprinted on the earth, and their images are real to us.
We see our grandfathers, standing tall and strong, warriors of long ago.
We see our grandmothers, strong and hard working women.
We hear them singing, we see them dancing, and our spirits move within us.
They told of emus fighting, and the kangaroos picking up the scent of our hunters…
The images fade away as we feel the hurt of our people.
We can hear the cries of our grandmothers as they cry for their children.
Loving Creator, you can see us as we stand here and feel this hurt.
Let us walk with you, loving Creator, towards the dawning of a proud and new nation.
We thank you for our sacred being.
The Words of Deacon Boniface Perdjert of Port Keats
God did not begin to take an interest in people
with the incarnation of his Son,
nor with Abraham.
My people existed here in Australia thousands of years before Abraham.
In all that time God was with my people.
He worked through their culture.
He was saving us despite human weakness.
He was preparing us for the day
when he would see the features of Aboriginals
in the image of his Son.
So I must recognise,
I must use the things of God that are in my culture.
I must use them in his service.
If I do not do this,
my faith and my service are shallow.
They are a pretending.
They belong to some one else, not to me.
God has asked us to love him with whole mind, heart and soul.
So I must give myself to God as an Aboriginal.
This is what God wants or he would not have made me what I am.
These words were written in the late 1970s.
Note: Both these prayers are taken from Aboriginal Catholic Ministry, Archdiocese of Adelaide "Indigenous Prayers and Liturgies".
Resources:
The National Council of Churches in Australia website has a series of prayers related to the Millennium Development Goals and Indigenous Australians. Well worth a look at this very useful resource. Click here.
From: Specific Issues Committee, Indigenous Concerns (Sisters Liz Rothe, Rose Glennen). The Committee warmly invites your response to the article or the issue.
Email: indigenous.concerns@mercy.org.au
Contact: Carmel Heagerty RSM, Institute Justice Co-ordinator
Email: Institute.Justice@mercy.org.au