Archived News Item
Feast of Our Lady of Mercy
September 20, 2013
The story of the Sisters of Mercy is shot through with 'a marked providential guidance', a prime example being the opening and naming of the large house on Baggot Street in September 1827, and placing it under the patronage of Our Lady of Mercy.
In one of Catherine McAuley's letters she speaks of the beginning of what was to become the international Congregation of the Sisters of Mercy. She says: It began with 2, Sister Doyle and I. In this account of Mary Ann Doyle joining Catherine in her work, we see the link to Mary, Mother of Mercy:
…Miss McAuley wrote to Miss Doyle saying that as all needful preparations would soon be completed she might enter if she pleased on the 23rd or 24th of the current month which was September. Miss Doyle, though she did not then know of the feast, fixed on the 24th but in another note remarked that she should be particularly rejoiced to begin her labours on that day as it was dedicated to Our Lady of Mercy, suggesting at the same time that House of Mercy would be a good name for the institution.
(Mary C. Sullivan: Catherine McAuley and the Tradition of Mercy p.48)
With this seeming 'coincidence' as its beginning story, we reflect that, through the ages, Our Lady of Mercy has been imaged as the one who responds to the needs of those who cry to her. Flying to Mary for protection and help dates back to the third century, the 'Memorare' being the earliest known prayer to this effect. Mary, as the one who protects those who call on her, has often been depicted as sheltering people beneath her mantle.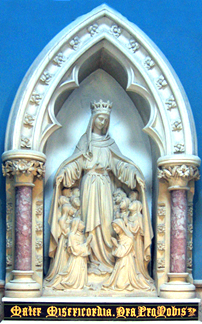 A beautiful statue of this was located in the original Convent of Mercy at Birr. Too big to remove when the convent was sold, the statue now stands in local Council offices as a lasting reminder of Mary, who shelters those in need and under whose patronage the works of the Sisters of Mercy are performed.
The feast we celebrate each year is a special day for all associated with the Sisters of Mercy. On Mercy Day each year, Sisters renew their consecration to Mary by a special prayer, placing their lives and their works under her patronage. This practice goes back to the Order's earliest beginnings.
On this day we particularly remember:
That Mercy is an attribute of God who pours mercy-love on those who call it forth by their very need – sheer gift!
That we must be empty to receive God's mercy, even as Mary was empty enough to receive its full flow within her.
That having experienced mercy ourselves enables us to be mercy for others.
That the opening of the first House of Mercy began a particular wave of response to need that rippled out beyond Dublin, beyond Catherine and her time, to our own. All drawn to Mercy after Catherine's example are custodians of a powerfully providential charism.

And so we pray:
Mary, Mother of Mercy,
across the ages you stretch out your protective mantle
to those most vulnerable
and whose need cries out for justice and mercy.
Show us, in these our times,
how to empty ourselves to receive God's mercy as you did,
so that we too can shelter and enable
those without voice or power.
We pray this in Jesus' name. Amen

Messages to Madeline Duckett rsm