Archived News Item
Heavingly Puddings For A Good Cause
June 30, 2017
As Christmas in July approaches, our attention turns to Father Mac's Heavenly Puddings; an enterprise operated by the Parish of Our Lady of the Rosary, Alstonville, New South Wales.  Anne Hughes rsm has been working in the Parish for the past 21 years.
The widely known and much loved puddings began production in 1981. Father Darcy McCarthy arrived as the first parish priest of Alstonville and after seeing the classrooms at St Josephs primary school, Fr McCarthy started to look for ways to raise money for the renovations.
His love for cooking lead him to setting up a cake stall outside the church and starting a small pudding business using a secret family recipe handed down to him by his mother. This recipe is still closely guarded today. The Puddings are produced in a small factory located in the Alstonville Parish adjacent to St Joseph's School.
In his first year, Fr McCarthy produced 300 puddings, which quickly grew to 65,000 just nine years later.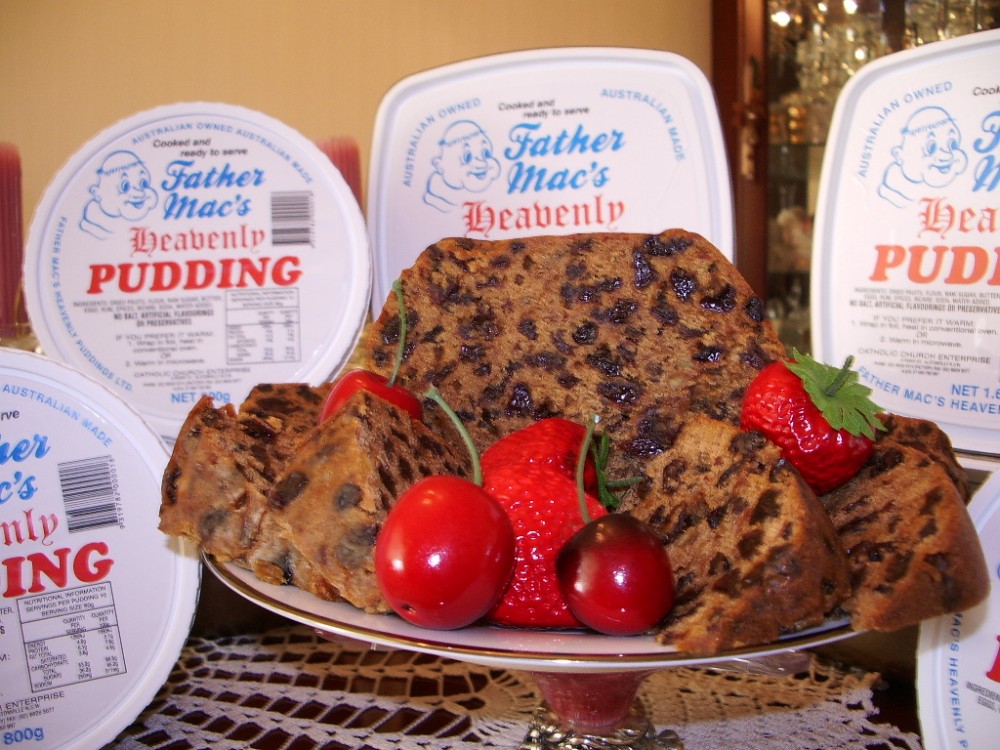 With the help and dedication of volunteers Father Mac's Heavenly Puddings raised $250,000 for the renovations of the school building.
Sadly, Fr McCarthy passed away in 1991 and the pudding production continued in his honour; carried on by a team of enthusiastic volunteers.
Anne Hughes rsm has been working in the parish for the past 21 years and oversees an annual donation to Zimbabwe in July of each year.
"July is the start of our cooking season which runs through till November and in the month of July all sales go directly to our projects in Zimbabwe," says Sr Anne.
"Since we started sending money to Zimbabwe in 2002 we have donated around $95,000 through the Jesuits to fund community projects there."
Zimbabwe is a place close to Sr Anne's heart after she spent three years teaching A and O levels in Makumbi Secondary School.
"The community projects we fund are varied and have included funding training programs for young people to care for AIDS patients, providing a mealie meal for breakfast at local schools and restocking chicken farms for the young boys who have come off the streets," says Sr Anne.
"If there is no specific project underway, the funds raised will go toward providing school uniforms and equipment to those who are very poor within the community."
Father Mac's Heavenly Puddings have provided the parish with funds to assist with other special projects.
In addition to raising funds for projects in Zimbabwe and within the Alstonville Parish, Father Mac's Heavenly Puddings have helped groups all over the world, including:
Funds donated to the village of Kumasi in Ghana to enable the sinking of a Bore to bring fresh water for the people.
The Landmines Photographic Exhibition displayed in the village of Alstonville.
$3,000 sent to a Cambodia Wheel Chair factory. The following year funds donated to relocate five families of Landmine victims to new homes.
200 Puddings to the Interfet Forces in East Timor for Christmas 1999.
Sponsored Child Safety campaign and encourage and support the local children's Netball club.
Assisted with donations to Drought Relief Hampers.
A small donation of Puddings went to Christmas Island Asylum Seekers December 2010.
Donations made to Australian Catholic Relief Projects, Father Chris Riley's "Youth of the Streets", Meals for the Homeless and gifts to Hampers for needy Families, Little Sisters of the Poor, World Youth Day Fundraising and more.
Parish Social Justice Committee hosted a visit of four Refugees from Romero Centre – Brisbane, parishioners made personal contributions. Refugees visited again in March 2002.
Donations made to the Catholic Archdiocese of Sydney Priests Retirement Foundation.
Father Mac's Heavenly Puddings donates more than $15,000 worth of puddings to other local charities that provide soup kitchens, crisis parcels and hampers, and meals for the homeless. Some of these have included:
Wayside Chapel
Mamre Plains
Sydney City Mission
Centacare
Lismore Soup Kitchen
St Vincent de Paul – Alstonville  and  Support to Parishioners (donations for Raffles etc)  and Local district groups raising funds for Charities eg. Disability Groups – St Vincent's Hospital Blue Ladies
Local community Care Groups – Drought relief Hampers
SIDS Foundation – Richmond High School
Urban Kitchen – meals for the Homeless
Cana Communities
Victorian Bush Fire Appeal.
Messages to: Anne Hughes rsm
CLICK HERE TO RETURN TO JUST MERCY
30 June 2017.