Archived News Item
Farewell Ian Elder and Julie Ryan
December 19, 2017
The Institute has farewelled two of its most experienced longstanding Principals – Ian Elder, Santa Maria College Perth, Western Australia, and Julie Ryan, Our Lady of Mercy College, Heidelberg Victoria.
"Julie Ryan and Ian Elder who will finish their principalships at the end of 2017, have served Mercy Education and their schools with dedication, wisdom, expertise and deep passion for learning and teaching," said Eugene Lynch, Executive Officer, Mercy Education. "Both have been exemplary in their leadership of learning and teaching, empowering teaching staff and providing high quality educational facilities for the young women entrusted to them."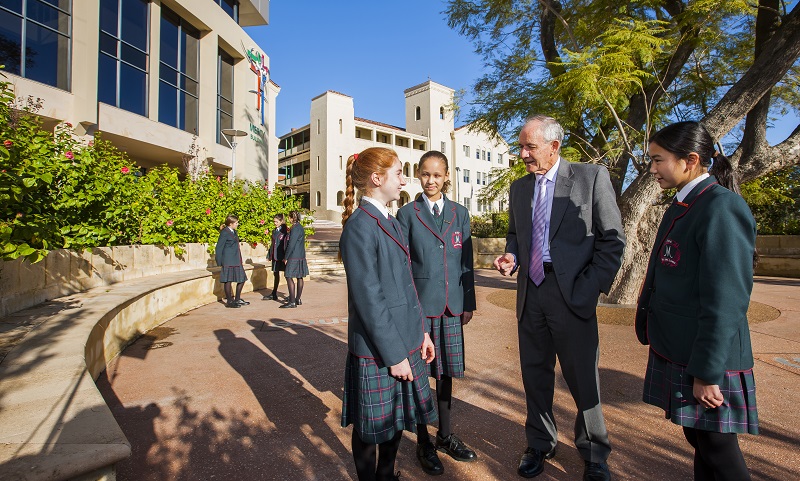 Ian Elder
Extract from Farewell Speech at the 2017 Mercy Education Dinner by Tony Wheeler, MEL Director:
Ian was appointed to Santa Maria College in 2009 commencing his Principalship there in 2010 and for the past eight years has given unstintingly of himself, for the benefit of his students, staff, the College Community and Mercy Education Ltd.
Over his eight years he transformed not only the facilities and the academic performance of the school, but he built a community of students, educators and families and to the delight and gratitude of the founders, he restored the charism of the Sisters of Our Lady of the Missions to the College.
Life isn't only about work for Ian though.
Sport plays a major role and it should come as no surprise that this medium provides not only a further outlet for his barely concealed competitive side but also on occasions, a degree of release from the reasoned and impeccable College Principal.
Of Ian's passions – none exceed his family and education.
For years he has championed his belief that schools are built on the four pillars of academic performance; sporting achievements; cultural pursuit and community service and under his leadership, his staff and students have wholeheartedly embraced this concept.
The relationship which Ian has with his students may not be unique, but it most certainly occupies a place at the heart of his leadership and success.
The tributes that have flowed both during and as he completes his tenure, are evidence of  the high regard and affection 'his girls' have for him.  Whether it is acknowledging his participation in the annual cross country run, his presence at every sporting and cultural event he can manage, being around the grounds to chat at recess and lunchtime, grieving with them during times of loss, or seeking their views and including them in important decisions, they relate to him and he in turn, does nothing which he believes is not in their best interests.
I did say the relationship is not unique, but to hear so many teenage girls say that a quiet humble man of mature years has inspired them is certainly not the norm. His staff too, over many years express similar sentiments.
He has never forgotten what it is like to be a classroom teacher, a middle manager or a deputy Principal and this insight has consistently enabled him to understand and act upon the knowledge that senior educators play a vital role in the growth of their peers.
Consistently, he looks for opportunities for all of his people to shine and under his mentorship, his staff know they have his confidence as well as his support.
His belief in allowing people to grow has resulted in no less than twenty of his former employees now occupying senior education roles as Principals or Deputy Principals – an achievement of which he is justifiably proud.
Ian has said he believes there is something special about an institution founded by a Religious Order and his inclusion and the hospitality extended to the Sisters of Mercy during his time, have resulted in creative ways to keep the Mercy story alive in ways which have encouraged the College community to expand its own charism.
For a number of years Santa Maria has been recognised as the highest performing school in Religion and Life in Western Australia and whilst Ian has gathered outstanding staff to teach in this area, his very presence is cited by many as re-enforcing a sense of values in the way he models Gospel imperatives and "walks the talk".
Since 2012, when our three Western Australian Colleges joined Mercy Education, Ian has been a generous and valuable contributor to the evolution of the MEL Governance model. Whilst it might not be unfair to say that he is a supporter of the old adage, "Rules are made for the guidance of wise men" his sage counsel and willingness to share will be sadly missed along with the pleasure of his company at our various functions.
Ian has been rightly honoured within the Catholic system and more recently was awarded Fellowship of the Australian Council of Educational Leaders for his broader contribution to the sector.
Whilst Santa Maria was certainly a very good school when Ian arrived, I believe it fair to say that he leaves it,as a great School.
Ian, to you and Lesley, your greatest supporter and rock, our thanks and very best wishes for this next phase of your lives.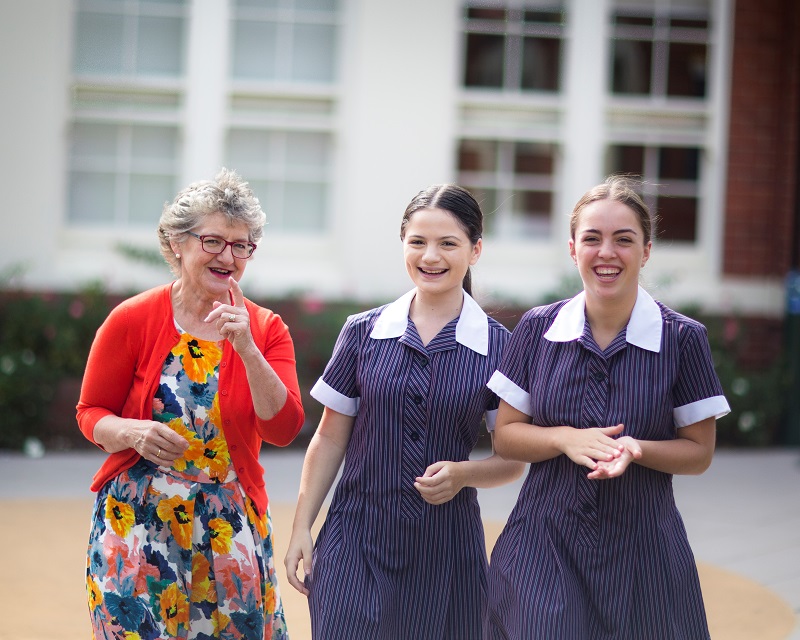 Julie Ryan
Extract Farewell Speech at the 2017 Mercy Education Dinner, Liz Monahan, MEL Board Deputy Chair:
It is a pleasure and a privilege to be given the opportunity on behalf of all present here this evening to acknowledge Julie Ryan's contribution to Mercy Education as principal of Our Lady of Mercy College Heidelberg for the past thirteen years.
Julie has maintained high academic standards; her passion for learning and boundless energy are well recognized, her understanding of contemporary learning practices exemplary; what is best for the students has always been the touchstone in any change processes she has initiated.
She has also ensured that the physical surroundings are attractive, contemporary and conducive to learning with an ongoing program of building and refurbishment. Most importantly she has overseen the education of a generation of young women who are given every encouragement to become compassionate, dynamic, forthright and empowered to lead in the modern world.
In our recent consultation with the college community over Julie's successor, students noted how Julie has inspired them with a passion for justice. Julie has driven the strategic direction of the college. Particularly noteworthy was her leadership of the latest Strategic Plan for the College which provides a clear blueprint for the future.
Julie is known for her perseverance. This was exemplified in her finally walking the Camino De Santiago last year after two earlier attempts were interrupted by circumstances beyond her control. The second of these involved Julie returning to Australia following a serious incident with one of her students. While Julie trusted her staff to manage the practical aspects she was very much aware of the importance of the presence of the principal in the college at such times.
Julie will always challenge that which she believes to be unjust, inappropriate or what could be done in a better way. You would certainly never leave her presence unsure of her opinion and her perceptive comments have been of great assistance in the development of Mercy Education.
The Mercy Charism is well understood at Our Lady of Mercy and much encouragement is given to living it out. Students and staff speak of their awareness of, and immersion in, the Mercy story and values.
Julie established connections with broader Mercy networks including McAuley Services for Women, Mercy Works and Mercy Health. She has served as President of AMSSA for the past four years. Notably, her recent initiative of High Tea raised over $13,000 for McAuley Services.
Julie has also contributed to the wider circle of Catholic Education as President of the Principals' Association of Victorian Catholic Secondary Schools. In this role her ability to plan strategically for the future was evident.
In a review some years ago, staff noted that Julie encourages them to be professionally restless. She has provided extensive opportunities for her staff in learning and leadership both locally and internationally. She has developed innovative and supportive employment conditions which ensure she attracts and retains outstanding staff.
The panel thought the phrase professionally restless was also most apt for Julie herself and it has continued to be so. She is constantly reflecting, reviewing, tweaking, seeking continuous growth in herself and others. In recent years she completed the Master of Education in International Policy. And now, as we know, she has accepted the role as Regional Director for Marist Schools Australia and will be working with Marist schools across the Southern States of Australia and Northern Territory to assist them achieve the excellence she has attained for her school community at Our Lady of Mercy College.
Julie, I am sure your expertise, experience and personal gifts will continue to be used in their service as it has been in Mercy Education.
You leave Our Lady of Mercy in a very strong position, sustaining its Mercy Tradition, providing an outstanding education, with healthy enrolments and financially robust with clarity and certainty in its future.
Thank you for your contribution to Our Lady of Mercy Heidelberg and to Mercy Education. We wish you well for next year and in the years to come as you explore this new stage of your life.